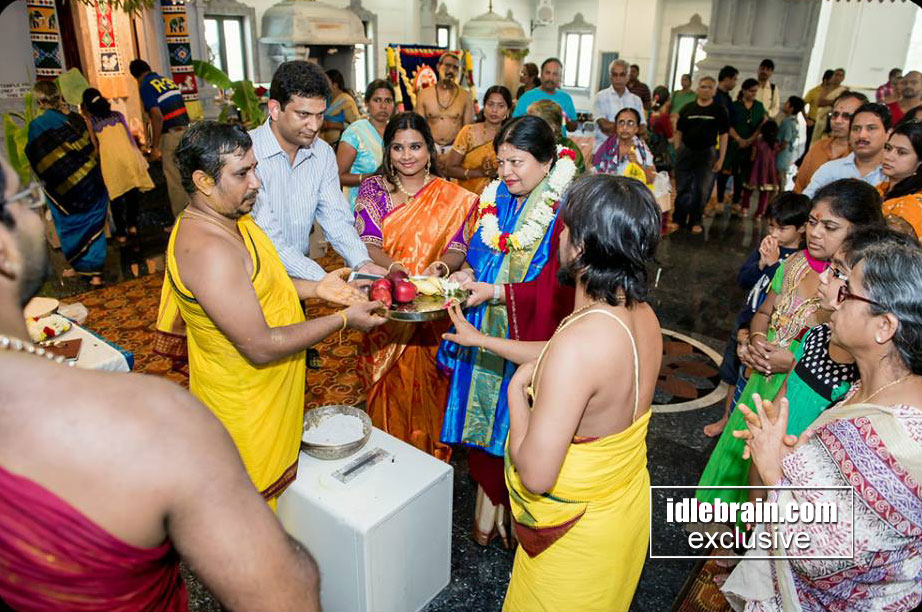 To feature your NRI communty news in idlebrain.com, please mail us at [email protected]
31 August 2014
Hyderabad
The event, Annamayya concert by the superlative Dr. Shobha Raju, brought to the public by Friends of Atlanta and the Hindu Temple of Atlanta. On the occasion of Bhramotsvam at the Shiva Temple Dr. Shobha Raju performed Annamayya kritis to a rapt and mesmerized audience.Over 600 devotees and music lovers thronged to the Hindu Temple of Atlanta.
The afternoon began with a couple of Kritis performed by the participants in the "Vesavi Vennela" music workshops conducted by Dr. Shobha Raju garu. They sang "Hariavataramitadu Annamayya" written by the grandson of Saint Annamayya, Sri Pedda Tirumalayya and composed by Dr.shobharaju . "Entha chakkani dhanavamma Srimahalakshmi" written and composed by Dr. Shobha Raju.
After that the audience got what they had come to the event for. A devotional journey into the mind of Saint Annamayya, through the melodious voice of Dr. Shobha Raju. "Narayanate Namo Namo" was very apt given that she was singing directly below Lord Venkateswara's garbha gudi. "Kondalalo Nelakoona" reminded everyone of their beloved Tirupati. Dr. Shobha Raju beseeched lord Venkateswara on behalf of the audience with "Vinnapalu Vinavale". "Muddu Gare Yasodha" heralded the birth of lord Krishna on Janmashtami. Finally Dr. Shobha Raju's performance ended with the supreme truth that we are all one and the same irrespective of our caste, religion and race like no other song can with her rendition of "Brahmamokkate Para Brahmamokkate".
Friends of Atlanta and the Hindu Temple of Atlanta members felicitated Dr. Shobha Raju with a shawl. Friends of Atlanta would like to thank Mandapati Venkatapathi Raju and Archana Reddy for co-ordinating the event. We would also like to thank Vinay Maddineni,Venkat Meesala,Nagesh Doddaka, Ram Maddi,Srinivas Lavu,Harsha Yerneni,Bharath Maddineni, Manoj Tatikonda and Devanand Konduru for making the event a Grand Success.