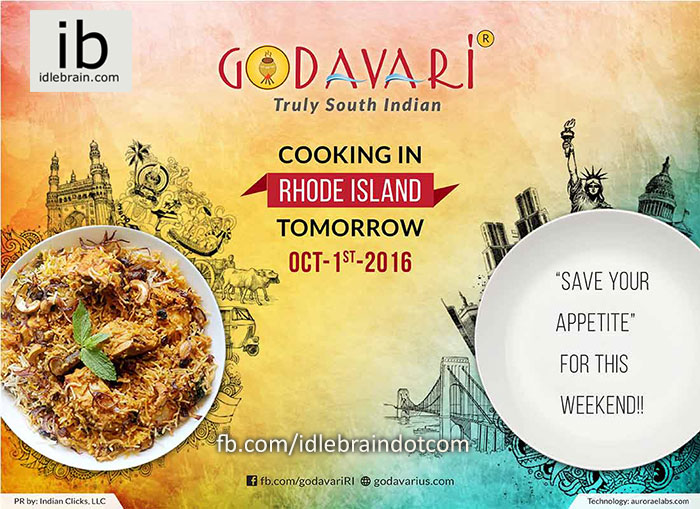 To feature your NRI communty news in idlebrain.com, please mail us at [email protected]
30 September 2016
USA
USA, Rhode Island, Sept 30th 2016: Godavari, the fastest growing South Indian food giant in America is all set to open its restaurant in the State of Rhode Island this weekend.
This will be the first south Indian restaurant in Rhode Island well-located and catering to the large number of Indians.
The restaurant is strategically located as it is only a few minutes away from the Head Quarters of CVS, Citizens Bank, Amico and many other corporates having a huge number of Indian as well as mixed population. Godavari is also just ten minutes away from the recently opened Patel Brothers.
Godavari has been spreading fast both physically and on the popularity front with its large spread and variety of recipes wooing many food lovers. Godavari Rhode Island will serve the vicinity of Massachusetts covering North Attleboro, Wrentham, Norwood, Bellingham and many more that have been waiting for a good Indian place to dine in and also indulge in South Indian flavors.
Godavari's themed South Indian buffet has made it most sought after among the Indians in America.
The upcoming Godavari Rhode Island will offer the authentic and huge lunch buffet on the grand opening day and every weekend with the "Godavari lo Mee istam" with Tollywood theme. The dishes include "Jeedipappu Bajji", "Pesara Punugulu", " Rathamma Gari Raagi Idly", " Cumberland Kundelu Vepudu", "Karivepaku Kodi Kabab", "Godavari Royyalu & Mamsam Pulao" and many more.….
Godavari Rhode Island will also house a full bar "Kallu Compound" serving authentic drinks like "Rajahmundry Iced Tea", "Rayalaseema Karam Martini", "Silk smitha Smootharita" and many more variety drinks that are not available in any Indian restaurant in the US.
Anil Dindi, Rakesh Valiveti and Teja Ravella are very excited to be a part of "Team Godavari" which is now spreading the authentic tastes across the world by expanding rapidly and working with enthusiastic franchise owners.
Speaking on the occasion, "Godavari Rhode Island Franchise owners expressed their excitement to serve the state of Rhode Island with authentic and a wide variety of dishes. We feel it as a privilege to be a part of Godavari family and would add more energy to the brand".
Teja Ravella, franchise owner of Godavari Hartford thanked the people of Hartford for making Godavari Hartford a grand success and also for having Godavari in their hearts.
Godavari will soon flow into Charlotte - NC, Herndon - VA, Framingham - MA, Las Vegas and none other than Hollywood.
Save your appetite for this weekend and enjoy the latest authentic recipes from Godavari Rhode Island at:
GODAVARI RHODE ISLAND
356 MENDON ROAD,
CUMBERLAND, RI 02864.
PH: 401-727-0036.
Thanks again…. Hope you all avail and enjoy our services.