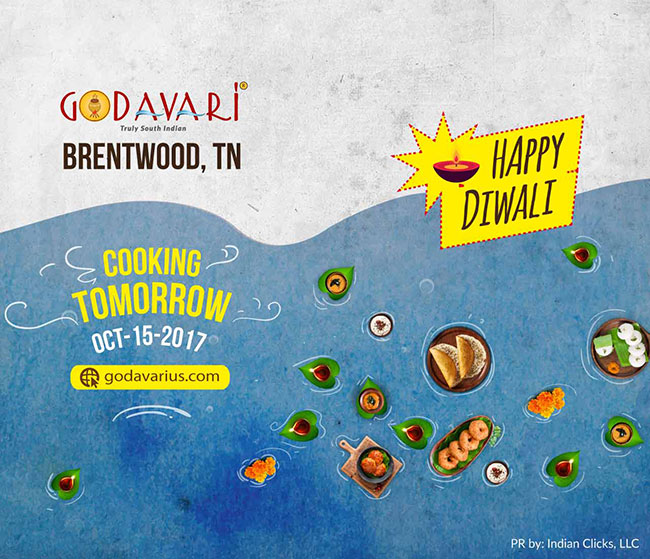 To feature your NRI communty news in idlebrain.com, please mail us at [email protected]
13 October 2016
Hyderabad
Godavari Flowing in Nashville, TN Now with Authentic Recipes!!
Godavari, The biggest and the fastest growing South Indian restaurant chain in the country is now all set to open its 20th location in Nashville, TN. With an amazing brand value and authentic recipes, Godavari is spreading its wings across North America building its own family of food lovers.
Godavari Nashville, is one of its kind which is located in the heart of the Corporate Hub in the City of Brentwood (Nashville Suburb) in which more than 20000 employees work. Godavari is going to be the first authentic south Indian restaurant in the entire state of Tennessee.
"We have been running restaurants in the City of Nashville for more than 10 years now. But, we saw the future in South Indian food and Godavari was the only brand which we figured is the top notch based out of our research and experience as restaurateurs. We are really excited to be a part of this energetic brand." said Bobby, restaurateur and owner of Godavari Nashville.
The Grand Opening buffet would include the Fall Special recipes from Godavari like "Idly Manchurian", "Royyala Dosa", "Kundelu 999", "Mangamma Mamsam Pulao", "Nawabi Kurbani ka Meeta" and many more delicacies.
Godavari would be serving their "Diwali Dhamaka Buffet" over the Oct 23 Weekend across all its locations in the country. This buffet would be the never before and never again type in Godavari history.
Godavari Charlotte is celebrating its First Year Anniversary this weekend and would be serving "Banthi Bhojanam" for lunch which is the first of its kind concept in the country.
"We opened Godavari Atlanta last month which was amazing and we are growing bigger every month. However, we are a tightly connected family in which we share everything and make sure each location helps the other as much as we can which is a unique thing about Godavari. We have lot of concepts and many brands which we are going to roll out soon just like the "Spicy Salaa", the first South Indian Food truck in the Country." Said Koushik Koganti.
"We are on a mission of spreading the aroma of South Indian food across the planet. we are going to open a centralized help line for the customers where they can call in if they have any bad experiences in any of the locations and we will work right away to address those." said Varun Madisetty.
Come and Enjoy our Delicacy this weekend……
Location:
GODAVARI BRENTWOOD
5012 THOROUGHBED LANE,
BRENTWOOD, TN 37027
Contact:
Varun Madisetty
630-340-9760
[email protected]
Thanks again…. Hope you all enjoy our cooking….
www.GodavariUS.com