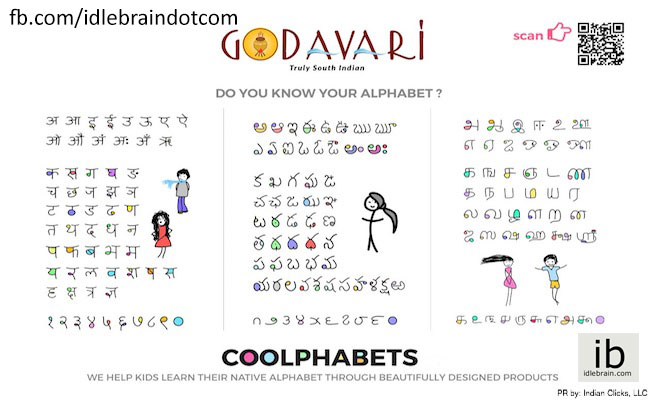 To feature your NRI communty news in idlebrain.com, please mail us at [email protected]
6 May 2016
Hyderabad

Godavari, the fastest growing South Indian restaurant chain in the world has associated with Coolphabets to bring the Mother Tongue close to all the Indians from this Mother's day.
Godavari in collaboration with Coolphabets a start up with a unique concept of teaching our arterial languages to our next generations using different variety of merchandise like T-shirts, Mugs and many more is promoting the native languages along with Native food.
All the locations will start using the placemats with the alphabets in Telugu and many other Indian languages so that it would be a unique concept of teaching our language to the kids during their visit to Godavari locations.
This Mother's Day as we salute the unparalleled love from mothers all around the world towards kids due to which we all made this far, we want take a moment and invite you all to enjoy the lavish lunch buffet at all Godavari Locations Across USA on this Mother's Day Weekend.
Get Ready to Surprise your Mom with a Unique Lunch Buffet at all our Locations Across USA that would be serving the best of the South Indian cuisine with an entirely unique Mom's recipes like "Kamju Pitta fry", "Amma chetah Almond Chicken", "Venna Idly", "Avakai Naatu Kodi Biryani" and many more.
The science of good food and the science of passive learning served just right from Godavari and Coolphabets.com.
Go. Explore and find out what dish will take you close to your moms love.
With Love to All & Respect to Moms!!!
Happy Mother's Day!!!!