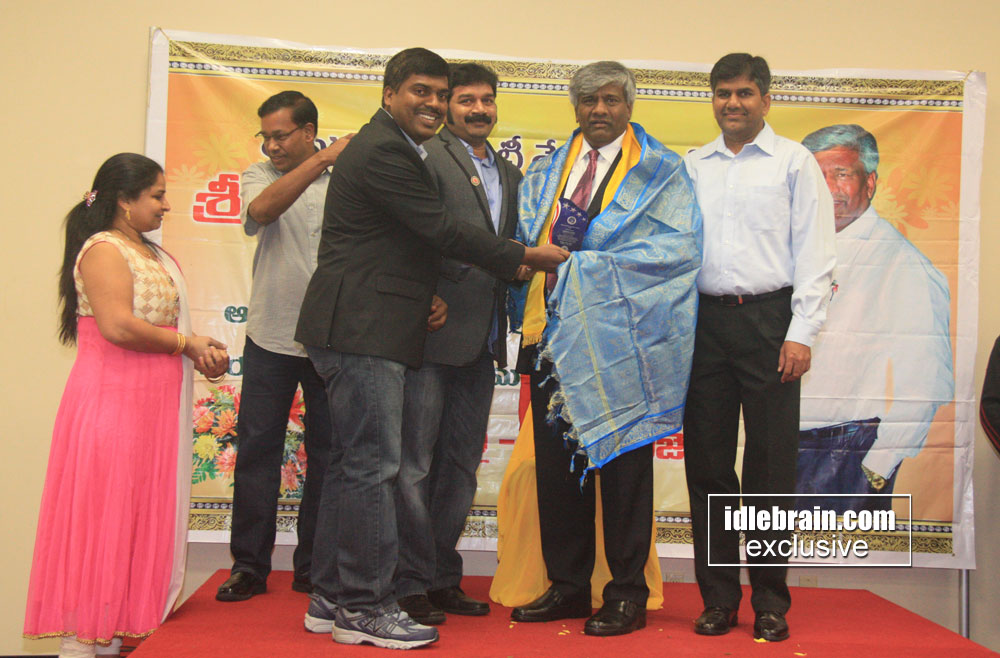 To feature your NRI communty news in idlebrain.com, please mail us at [email protected]
17 February 2016
Hyderabad
The Telugu NRIs of Los Angeles area have felicitated Sri Jayaram Komati on February 13th for being appointed by the Government of A.P as the Special Representative of Govt of AP in North America. The Felicitation was conducted in grand style organized and hosted by Dr. Kanthi and Jayadev Appannagari.
Around 300 NRIs attended the event along with several community leaders and elders. All the speakers applauded Jayaram Komati's service to the community for several years. Jayaram Komati provided an excellent leadership for several organizations including TANA, Federation of Indo-American Association and also the visionary behind the Telugu newspaper in US 'Telugu Times' and Telugu school for kids 'Paatasala'.
Speaking on the occasion, Sri Sarath Kamineni congratulated Jayaram and wished that Jayaram will set a standard in service being in this role and strive for the welfare of Telugu community both living in the US and also in AP. Rayudu Kottapalli garu also mentioned that Jayaram has the ability to lead the community and is always in the front line when it comes to community service. Jayadev Appannagari explained how he relished acquaintance with Jayaram and mentioned that Jayaram is a simple, able and a reachable leader. Sri Rao Yalamanchili felicitated Jayaram amidst applause from the audience with a shawl and garland. Later Sarath garu, Rayudu garu, Lakshmi Chundu, Kumar Koneru, Jayadev and several others including leaders from the Telugu Community organizations, Paatasala team have felicitated Jayaram.
In response to the felicitation, Jayaram Komati humbly thanked the Los Angeles NRIs for their love and affection they have shown and also appreciated everyone's effort involved in this event. He explained on the role and responsibility he was bestowed with and also mentioned he will work towards the benefit of the Community. He mentioned that he is not confined to any specific group or organization and is willing to support any cause that benefits the Telugu community whether in the US or in AP. He provided answers to the questions that came from the Q&A session. He was very thankful to the Chief Minister Chandra Babu Naidu and the Govt of AP for identifying him for the position and also Telugu community at large for supporting him all the way.
Lakshmi Chundu Founder of IYANA, Nandan Kumar Potluri, Suresh Kandepu Los Angeles Coordinator for TANA, Suresh Ayinampudi along with several other volunteers conducted the event with excellent planning and execution. All most all the leaders from various local and national organizations including NATA, IYANA, TATA, ATA, LATA and TASC attended the event and congratulated Jayaram.
Jayadev thanked all the volunteers who worked hard to make this event such a lively and memorable one within a short time. The light music by 'Sangam' group, dance performance by the kids and the sumptuous dinner provided by 'Vishnu' catering are additional highlights of the event.