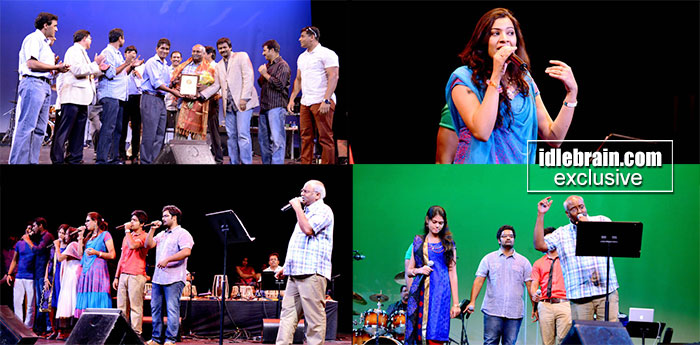 To feature your NRI communty news in idlebrain.com, please mail us at [email protected]
23 July 2013
Hyderabad
'Spellbinding', 'Exceeded my expectations', 'Heck of a team', 'Nice blend of melodies and latest beats' are a few from hundreds of comments received by TAMA after Keeravani team created a sensation in town last Sunday.
'Keeravani'... the name says it all. It means a Raagam in Carnatic Music. His composition is a class by itself. Since early 90s, M.M. Keeravani has created his own niche and won our hearts with hundreds of hits. Every tune is unique, every song spells class.
'Paramount Software-TAMA Keeravani Live' show held on Sunday, June 30 at Ferst Center for Arts at Georgia Tech was a true gift to Telugu Community in Atlanta. With about twenty hit songs Keeravani's team kept the audience glued to the seats. His team of seven young singers - all in their twenties - Revanth, Rahul, Noel, Kaala Bhairava, Geetha Madhuri, Sahithi, Ramya – had great coordination and were extremely bubbly in doing the performance. Keeravani's presence on the stage throughout the show was another unique highlight of the evening. The instrumentalists were very dedicated and talented. The song lineup included a good mix of latest hits like Panchadaara Bomma Bomma, Eega, Eega, Eega, Amma Avani Nela Thalli and classics like Punya Bhoomi Naa Desham Namo Namami, Jaamu Rathiri Jabilamma, etc. The entire auditorium was echoing with whistles and applause when Keeravani praised Atlanta audience in hosting the show.
This sold-out musical night was held as a part of TAMA's fund-raising initiative. Within 20 days TAMA could reach out to the entire community soliciting funds for Long-term Projects. Guess what, pledges and ticket sales to the tune of $150,000 were received. Paramount Software Solutions, Inc., the all-time favorite sponsor of TAMA, donated $10,000 as Title Sponsor. North America Telugu Society (NATS) has co-hosted the show. As many as 16 organizations and individuals have donated $5,000 each as Gold Sponsors. There were three sponsors in Silver $2,500 Category and about thirty five sponsorships in Bronze $1000 category. Majority of the sponsorships were collected by TAMA Board Chairman Srinivas Lavu and TAMA President Mahesh Pawar. Members of EC and Board too, have taken minimum Bronze sponsorship and made their best effort in reaching out the Community for funds. From TAMA EC & Board, Srinivas Lavu, Sunil Shavale, Anil Boddireddy and Venkat Meesala became Gold Sponsors while Viju Chiluveru and Meher Lanka took Silver Sponsorships.
Earlier, after a brief welcome note by Viju Chiluveru, Lamp was lighted by Pramod Sajja of Paramount Software. Later Mahesh Pawar talked about TAMA and Srinivas Lavu gave an overview about Long-term Projects. During the first break, Gold Sponsors were recognized by Keeravani. Towards the end of the program, Winners of Volleyball Tournament held recently as part of NATS Samabaralu, were given trophies.
Sunil Shavale, Director on the Board, proposed Vote of Thanks. He thanked ByteGraph for Photo and Video coverage, Taste of India for Food for the event and Banquet held on July 1, Hari Limo for Transportation, GA Tech for their wonderful service, NATS for facilitating Keeravani's event, Devanand Kondur for helping with Audio, Rajesh Jampala for helping in several departments. Sunil also said, "It is a team work and everyone under this roof is a part of our efforts and we truly thank you!" The other volunteer who deserve special mention for their services are: Upendra Narra, Vijay Kothapalli, Nagesh Doddaka and Rajesh Yallabandi.
Anil Boddireddy, Education Secretary, who is also a Gold Sponsor, did a wonderful job of heading Hospitality Team for Keeravani Troupe. Similarly, TAMA appreciates the hard work and dedication of Vinay Maddineni, TAMA Secretary, for his extraordinary services throughout this event.
Long-term Project is 'an initiative that would directly benefit TAMA member on an ongoing basis'. Best examples of these projects are Scholarships to Merit Students in Andhra Pradesh, Library & Study Room at TAMA Office, etc. One of the objectives of forming a Board for TAMA is to initiate and manage these long-terms projects. Within months of forming Board several projects were moved from drawing board to project plan with clear goals, benefits and resources involved. During early second quarter of 2012, when TAMA leased office space based on the initiative of Srinias Lavu, Director 2012-13, these projects got accelerated and shaped up well. This office space is utilized optimally by for Meetings, Manabadi, Professional Business Networking Seminars, Maitri and similar activities. Scholarship Project has been revived. Library and study room is fully functional, Healthcare project was started and needs revamping (more details are provided below about each project).
On Monday July 1, TAMA Appreciation Dinner for Sponsors and Volunteers was held at Taste of India. This event was attended by Keeravani troupe, all levels of sponsors, EC and Board members, Volunteers, etc. Pramod Sajja of Paramount Software Solutions was given a grand recognition by the team. All Bronze Sponsors were recognized by Keeravani and Pramod Sajja. Fans took pictures with Artists, local artists sang few songs. A Gold Coin was presented by Rami Reddy of Gold Line, Inc. to Keeravani his face engraved on it to mark his visit to Atlanta. Keeravani said he will remember this gesture and love from Atlanta folks throughout his life. Later a TAMA 150K cake was cut by Pramod Sajja and Srinivas Lavu to celebrate the support of community to TAMA.
TAMA family would like thank Keeravani Troupe, all the sponsors, volunteers and the entire community in helping us organizing this event. We also will look forward to your continued support and advice in taking the organization to next level.
-- Viju Chiluveru, Director, TAMA Board
TAMA appreciates the following volunteers who contributed for the success of this event.
Upendra Narra, Rajesh Jampala, Devanand Kondur, Vijay Kothapalli, Nagesh Doddaka, Rajesh Yallabandi, Praveen Padires, Saikiran Kairamkonda, Gopi Mulpuri, Nagaraju Manthena, Murali Kakumani, Laxmi Peddi, Srivalli koduru, Srinivas (Hari Limosine). Please forgive us if we miss any names.

SPONSORS
Title Sponsor : Paramount Software Solutions
Gold Sponsors : Vensai Technologies, Delta Information Systems, Unicorn Technologies, Anil Bodireddy, Venkat Meesala, InfoSmart Technologies, SVK Systems, Serenity Infotech, North America Telugu Society, American Telugu Association, EiS Technologies, Sri Krishna Vilas, Corp Systems LLC, North America Telugu Association, Swapna Indian Cusine, Accentiqa Group
Silver Sponsors : Viju Chiluveru, Taste of India
Bronze Sponsors : Anand Garlapati, Anil Yelamanchili, Anjaiah Chowdary Lavu, Arun Vuyyuru, Bala Indurti, Chand Akkineni, Chittari Pabba, Devanand Kondur, Gallega Software Solutions, Goutham Gurram, Jagan Mohan Rao, Mahesh Pawar, Mallik Medarametla, Meher Lanka, Murali Kakumani, Nagaraju Manthena, Purna Veerapaneni, Rajesh Jampala, Garudavega, Ram Maddi, Ranakumar Nadella, Sandhya Yellapragada , Sheela Lingam, Sreedevi Dadithota, Srinivas Peddi, Sudhakar Borra, Sunil Katepalli, Suresh Peddi, Upendra Narra, Venkat Reddy Mondeddu, Vijay Kothapalli, Vijay Ravilla, Vinay Maddineni, Virtue Group, H2K Infosys, DW Practice, Hari Limos, ByteGraph Productions, Ramesh Chaparala, Anonymous 1, Anonymous 2
Patrons : Venkat Veeraneni, Sravan Yerramaneni, Ravi Sarma
Donors : Ramesh Gudde, Ratnakar Reddy, Sridhar Vallabhaneni