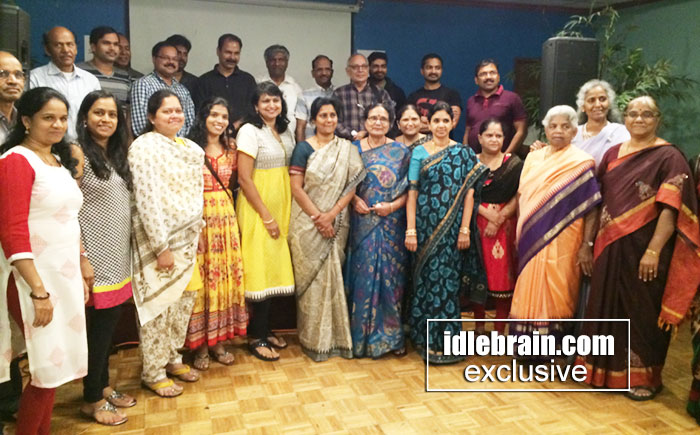 To feature your NRI communty news in idlebrain.com, please mail us at [email protected]
22 June 2015
Hyderabad
Many Telugus would have heard more of Budugu than they would of his creator, Mullapudi. Most Telugu cinema lovers would be more familiar with Rao Gopala Rao's Contractor, or Ramaligayya's Theetha than they would of their creator, Mullapudi VenkataRamana: journalist, film critic, satirist, film producer, and story teller. He was born on - June 28th, back in 1931, and he bid his goodbye to this world on 23rd February 2011. Mullapudi attained immortality as he left behind thousands of admirers smiling, chuckling, grinning, and guffawing. In true Mullapudi style, he left a void that is in fact easily and quickly filled - by the host of characters he created, the words he coined, and the jokes he mischievously cracked at the expense of society. 
In memory of this story teller who pulled our heart strings as easily as he put a smile on our faces, a small group of Telugus from around the Bay Area met at Swagat Restaurant in Milpitas. The program started with Vijaya Aasuri (BATA Advisors) welcoming all the guests.
There were no lectures about his childhood, but we laughed at his 'aakali' jokes. There were no podiums to deliver speeches from, but we each wanted a turn to share our Mullapudi joke. There were no felicitations, but we each enjoyed a recollection of memories about Bapu-Ramana's friendship. 
Summer solstice and Father's Day came together as did literature and movies of Bapu-Ramana. Simple, fun, and with the inimitable twist so characteristic of his works, the evening will remain a beautiful memory of th e duo for all of us who attended Mullapudi Maatala Muthyaaalu. Until we meet again. 
Anu Mullapudi (Ramana gari daughter) thanked Jayaram Komati, BATA team members, Kartik Sundaram & all the admirers who attended the program.
At the conclusion, Kalyan Kattamuri (BATA President) thanked all the attendee's and expressed BATA is extremely glad to host such a memorable program. He then introduced the BATA committee consisting of Sirisha Battula, Yaswanth Kudaravalli, Sumanth Pusuluri, Harinath Chikoti, Sridevi Pasupuleti, Srilu Veligeti, Kiran Vinnakota, Deepti Satti, Srikar Boddu, Arun Janga, Prashant Chinta, Ravi Thiruveedula, Kamesh Malla, Veeru Vuppala, Prasad Mangina, Ramesh Konda & Karun Veligeti.