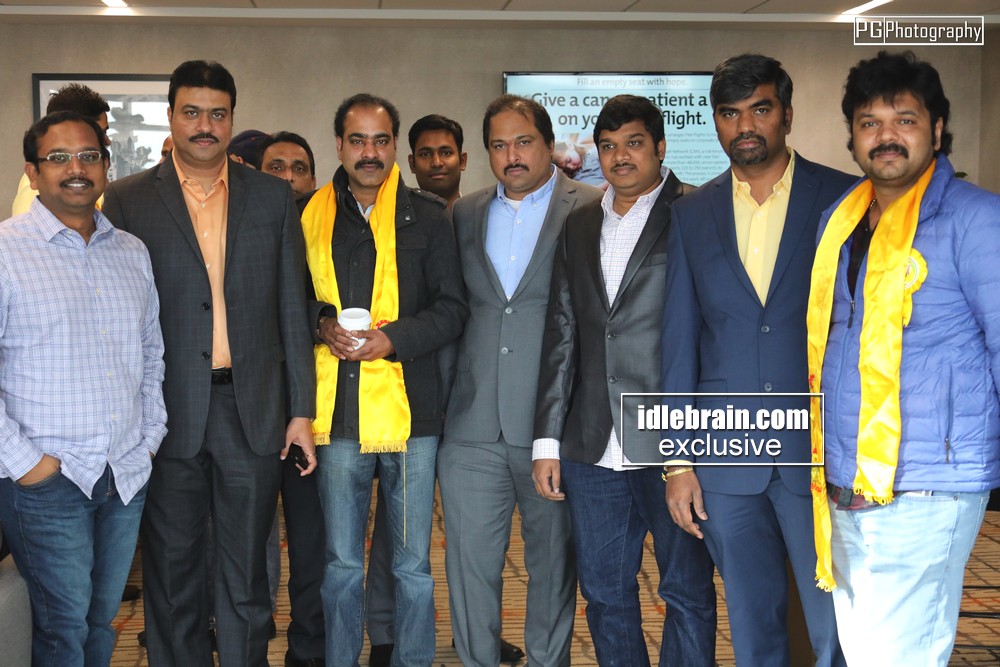 To feature your NRI communty news in idlebrain.com, please mail us at [email protected]
8 February 2018
USA

Andhra Pradesh Panchayati Raj, Rural Development & I.T.Minister and Telugu Desam party national secretary Nara Lokesh visited New Jersey and his trip was a grand success
Earlier in the day, when Nara Lokesh came to New Jersey, he held meetings with several entrepreneurs in Pharmacy and I.T. industry. He spoke in detail with them and listed out the various offerings by Andhra Pradesh government for the Investors who will be investing in Andhra Pradesh; the meetings were very productive many firms promised that they would invest in Andhra Pradesh.
Later, in the evening, NRI TDP arranged Meet and Greet with Nara Lokesh in Royal Alberts palace in Edison, New Jersey which received a great response. Over 1500 people attended this event. This is the biggest Telugu political meeting happened in New Jersey in the last 10 years. Apart from New Jersey, Telugu Desam Party well wishers from New Jersey neighboring states like New York, Connecticut and Pennsylvania also attended this event.
Telugu Desam party Rajyasabha MP C.M.Ramesh gave the welcome note and applauded the leadership of Andhra Pradesh Chief Minister Nara Chandrababu Naidu for his tireless efforts for the development of Andhra Pradesh. APNRT Chairman Ravi Vemuru mentioned that Andhra Pradesh government is actively working with NRI community and listed out the various services of APNRT for the NRIs. Later, NATS President Mohan Krishna Mannava presented a Memento of Lord Gautham Buddha, in resemblance of capital Amaravthi to Nara Lokesh.
Nara Lokesh's speech received a thunder response from the attendees. He spoke in detail the various activities taken up by Andhra Pradesh government for the development of the state, he listed out the benefits government is offering and requested NRIs participation in the development of Andhra Pradesh. Nara Lokesh's speech received lot of cheers and whistles from many TDP supporters. Later, Nara Lokesh had a Q&A session with several attendees. He actively interacted with the crowd and answered various questions on various topics related to the current political scenario in A.P, Polavaram project, Amaravathi, Development of Andhra Pradesh, NRIs role in A.P. development etc. Later, Nara Lokesh took pictures with several attendees; he took pictures with nearly 400 people and his patience was greatly appreciated by everyone.
The Organizing committee – Mohan Krishna Mannava, Valiveti Brahmaji, Buchiram Prasad Kalapatapu, Ratnasekhar Mulpuri, Jaysekhar Talluri, Sreedhar Appasani, Ravi Potluri, Tarani Parchuri, Gangadhar Desu, Ramesh Nuthalapati, Vidya Garapati, Srihari Mandadi, Devineni Laxmi, Vamsi Venigalla, Radha Nallamala, Vishnu Aluru, Rama Krishna Vasireddy, Sriram Alokam, Mohan Kumar Venigalla, Srinivas Oruganti, Surya Guttikonda, Vamsi Vasireddy meticulously planned and organized this event. Apart from the above people, also other Telugu Desam well wishers like Jagadish Yalamanchili, Chandrasekhar Konidila, Raja Kasukurthi, Prasad Gurram, Suresh Bollu, Anne Balu, Karthik Gogineni, Santosh Katragadda and many others also worked hard for the success of the event.
Many representatives from national Telugu Organizations like TANA, NATS, ATA, Silicon Andhra attended this event. Several representatives from APNRT and Janmabhoomi attended this event. Also representatives from local Telugu organizations in Tri state – TFAS, TLCA, TAGDV also attended this event. eBox provided live streaming of this event and many popular T.V. channels live telecasted this event. Bravura magazine and P.G photography covered this event.
In spite of a very huge and enthusiastic crowd, still the entire event was organized very professionally. Overall, Nara Lokesh's New Jersey trip became a grand success in all aspects and Lokesh thanked everyone for making his trip a big success.