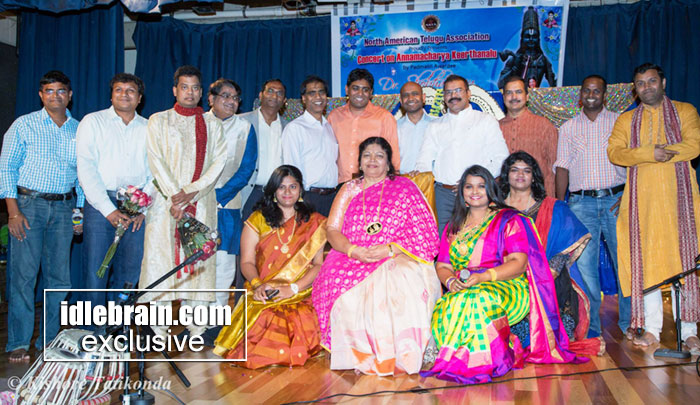 To feature your NRI communty news in idlebrain.com, please mail us at [email protected]
27 July 2015
Hyderabad
Workshop and Concert on Annamacharya Keerthanalu by Padmashree Awardee Dr Shobha Raju
Workshop 13"' to 22" July
Concert on 18"' July
NATA (North American Telugu Association) organized a work shop (music lessons) on Annamacharya Keerthanalu beginning from 13"' July for 10 days and a concert on Annamacharya Keerthanalu on 18" July at Hindu Temple of Atlanta, both by Padmashree Awardee Dr Shobha Raju. Record number of students (both adults and children) have attended the workshop and learned singing of Annamacharya Keerthanalu by legendary Dr Shobha Raju. The concert was a great success with more than 250 Telugu families attending. The devotees were mesmerized by the outstanding rendering of Annamacharya Keerthanalu by Dr Shobha Raju.
Dr Shobha Raju was conferred the title of "Sou| of Annamachawa" by NATA at the concert. NATA team has announced support for Annamacharya Bhavana Vahini run by DrShobha Raju.
The team received active support from Dr Prem Reddy (NATA Advisory Council Chairman), Dr Mohan Mallam (President), Rajeswar Reddy Gangasani(President Elect), Dr Raghava Reddy Ghosala (Executive Vice President), Bala lndurti (Past BOD and Atlanta Convention Convenor), Srini Vangimalla(BOD), Srinivas Kotlure (BOD) and Ravi Kandimalla (Oversees Coordinator). The event was organized by NATA leaders Venkat Mondeddu (RVP), Kiran Kandula (RVP), Nanda Gopinatha Reddy (RVP), Bindu Jonnalagadda (RC), Ramesh Kotike (RC), Ramky Chodavarapu (RC), Kishore Mellacheruvu (RC), Guru Paradarami (National Committee Co-chairand RC). The event would not have been possible without the initiative and extraordinaw help from Archana Reddy who was instrumental in organizing these events last year in Atlanta. We received active help from National Standing Committee Chairs Madhavi lndurti, Neelima Gaddamanugu, Jagadeesh Cheemarla and Ramesh Chaparala. NATA appreciates help from Srinivas Durgam (Sound system) and Kishore Tatikonda (Photography and Video). NATA also thanks Srinivas Kukkadapu and Hema Shipla for their help forthese events.
NATA appreciates the sponsors Deccan Abroad, Serenity lnfotech, Everest Technologies, Krishna Training, Medha Academy, Arvy Tech, GTAM (Gallega Technology and Management Institute), SoftpathSystem and DJ Durgam's. We also thank Ravi Chander of Soft Path System LLC for his generous donation to Annamacharya Bhavana Vahini. We appreciate leadership of Hindu Temple of Atlanta and Mahalakshmi Temple for helping us with venues. We thankTVS, TV9, YuppTV, CVR News, Great Andhra, Saakshi, Andhra Jyothi, Eenadu for their Media coverage.
.