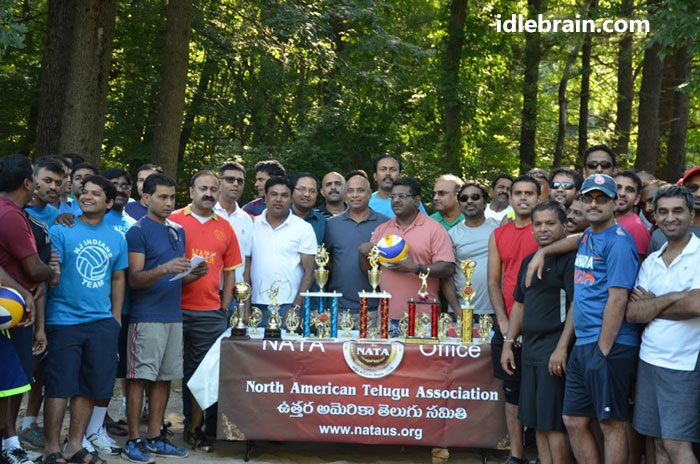 To feature your NRI communty news in idlebrain.com, please mail us at [email protected]
27 July 2015
Hyderabad
NATA organized a volleyball-2015 tournament on Saturday, July 25 from 8.00 am to 8.00 pm at Bi-Centennial Park in East Brunswick, NJ with picnic kind of environment. There is an overwhelming response to the tournament; there are 24 teams over 250 players played in various courts throughout the day. NATA took care of every aspect of the tournament including registration, breakfast, lunch and beverages for participating teams and attendees of the entire family members and supporters of around 500 people who participated throughout the day. First time there are few women players also played in the teams.
This mega tournament was organized by NATA NJ team under the guidance & support of Dr.Prem Reddy (Advisory Council),Dr.Mohan Mallam (President),Rajeshwar Reddy (President Elect), Dr. Raghava Reddy (EVP), Hari Velkur (Treasurer) and Srinivas Ganagoni (Joint Secretary) and Anna Reddy (BOD).
The Chief Guest of the event Upendra Chivukula, Commissioner NJ Public Utilities graced the tournament and met with all the team captains and encouraged them to participate in such events and thanked NATA for conducting such a wonderful sport tournament.
The event was primarily coordinated and executed by Dwarak Reddy Varanasi(RVP), Raghu Aluri, Satya Pathapati with the help of Sarath Mandapati (RVP),Anna Reddy (BOD), Srikanth Penumuda (BOD), Shiva Meka(BOD), Anjan Karnati (SC),and Nagesh Mukkamala (SC), Naveen Buchi and Prabhakar Reddy. The following 24 teams participated in the tournament.
NB Surrisers(Raghu Aluri), NB Kings (Harini), NB Raiders( Santosh), Brusnwick Pirates(Hari), Piscataway(Kubher), PSC Rockers(Tamilinian), PSC Raiders(Dinesh), Lehigh Warriors ( Puran Baru), NJ Indians(Raj Virupakshi), Edison Royals(Bhaskar Reddy), Kensigton Warriors( Rajesh Ariga), Wild Wings(Bala), Edison VBT (Anand), UVA Hitters(Hariharan), Plansboro Pirates (Avinash), Plainsboro Knights(Ashok), Bargoor Spikers(Siva Kumar), NJ Tigers(Amjath), Monroe RaisersI(Sudheer), Monroe Challengers(Manoj), Monroe Challengers(Manoj), Monroe Warriors(Akirala), NJ Warriors(SrujanP, Traditions Eagles(Sachin),and Chest Filed Friends( Mahesh)

The following are the Winners of the tournament, some of them got cash prize along with the trophies.
Major League Winners (Cash Prize $750)  --> NB Kings
Major League Runner-Up (Cash Prize $500)--> Piscataway
Minor League Winners (Trophy) --> Edison VBT
Minor League Winners (Trophy)--> Lehigh Warriors
Best Setter --> Ram Kumar from Piscataway team
Best Spiker --> Balvanth from NB Kings
MVP (Most Valuable Player)--> Harini / Sunny from NB Kings
The Trophy's sponsored by RayVEN IT Solutions LLC
NATA Volleyball tournaments have always been inspirational ground for young talented teams every year. This year Jersey Baadshaz has unveiled their team sponsoring the Runner up trophy.  Vadan Kopalle the team owner in collaboration with Raghu Aluri acknowledged NATA leadership team for the opportunity. The team aims yet introducing the Advance level players in both Indian Cultural and have plans to position Baadshaz in national leagues as a next step.
All the players were thankful to NATA organization and volunteers for providing them with the opportunity to play in the nicely coordinated tournament. They appreciated the flawless arrangements made including shelter, Breakfast, lunch and beverages. The event was attended by our 500 people including over 250 players. NATA has organized the Volley ball tournament to increase the awareness among Telugu people; Create opportunities to network and interact among Telugus. NATA has been very active in the Telugu community with its activities to empower the Telugu people and create opportunities for the betterment of Telugu people. 
NATA also thank the sponsors and the media personals from TV5, TV9 and NTV for their coverage.