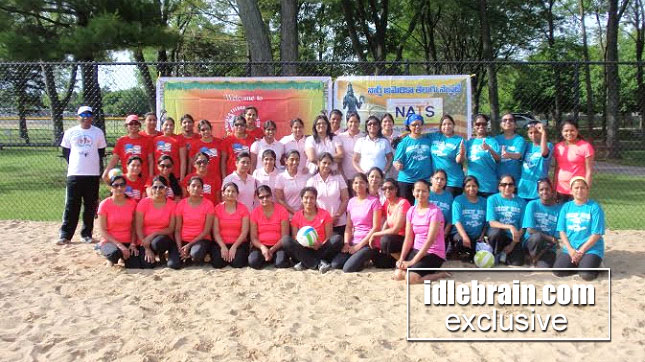 To feature your NRI communty news in idlebrain.com, please mail us at [email protected]
17 June 2014
Hyderabad
The Chicago Telugu Association (CTA) and North America Telugu Society (NATS) together has conducted the Women's Throw Ball tournament 2014 in Chicago from 7:00am to 2:00pm on Saturday June 14th 2014 at McCollum Park, Downers Grove, IL park grounds as part of Telugu Festival 2014. CTA Throw Ball tournament has received tremendous response from enthusiastic women from all over Chicago.
Four teams with 44 women players have participated in this tournament and put a spectacular show of the game. Team Pink Panthers from Westmont led by Lakshmi Pavani, Team Rudra from Naperville led by Hema Tatineni, Team Rocking Robins from Schaumburg led by Uma Shanmugam and Team Aurora from Aurora led by Vaidehi Siram. Each team had unique color coded dress code and was accompanied by their team coaches and physiotherapists. CTA & NATS Women Coordinator Laxmi Bojja and CTA Secretary Madan Pampulapati welcomed the teams and explained the tournament rules. Each team played individual league matches with nail biting finishes and showed good sportsmanship and spirit of the game. Around 200 people with kids and parents attended the event and showed great support to all the teams.
Team Aurora and Team Rudra qualified for the Finals and by displaying superior technique and fine court craft; the Team Aurora women's throw ball team outplayed Team Rudra to win the finals and lift the Championship Trophy.
The key event sponsors were Vensar Technology Inc and IDA Solutions Inc. Ample water, drinks and snacks were provided by New York Life insurance agent Krishna Rangaraju.
CTA and NATS Sports Organizing Committee Rajesh Vedulamudi, Shailendra Gummadi, Manohar Pamulapati and CTA Mahila Committee Laxmi Bojja, Sujana Achanta,Rani Vege, Havilah Maddela,Rama Koppaka, Bindu Balineni thanked all the Umpires and volunteers who have dedicated themselves to provide an excellent service to the tournament. CTA President Srinivas Boppana and CTA President Elect Murthy Koppaka and NATS Chicago Coordinator Nagendra Vege thanked the sponsors and organizing committee and players for successfully conducting the event and invited all the attendees to the Telugu Festival and CTA and NATS board of director Ravi Achanta highlighted the NATS activities and encouraged everyone to participate in the future CTA-NATS Chicago events and support the community activities.
CTA & NATS executive committee Murthy Koppaka, Mahesh Kakarala, Madan Pamulapati, Subba Rao Putrevu, Ramesh Maryala, VaraPrasad Bodapati, Lakshmanjee Kolli, Nagendra Vege, Sridhar Mumgandi, Srinivas Boppana, Naveen Adusumalli and Ram Tunuguntla coordinated the event. CTA & NATS thanked all the volunteers, Srikanth Bojja, Mahesh Alla, Pandu Changalasetty, Pranav Bethapudi, Dhiraj Paturi, Ramakrishna Balineni, Naren Upadhyaya, Amogh Balineni, Phalalochana Rao Vankayalapati, and many others for their selfless support in executing the tournament.
నాట్స్, సీటీఏ మరో ముందడుగు
చికాగోలో వుమెన్ త్రో బాల్ కు మంచి స్పందన 
మహిళలను ప్రోత్సాహించి..వారిలో క్రీడ ప్రతిభను వెలుగులోకి తెచ్చేలా నాట్స్,సీటీఏ మరో ముందడుగు వేశాయి. వుమెన్ త్రోబాల్ పోటీలు నిర్వహించాయి. చికాగో వేదికగా ఈ వుమెన్ త్రో బాల్ పోటీల్లో 44 మంది మహిళలు ఎంతో ఉత్సాహంగా పాల్గొన్నారు.దాదాపు 200 మంది ఈ పోటీలు ఆసక్తిగా తిలకించారు. తమ వారిని ఉత్సాహపరిచారు. ఈ పోటీలు అనంతరం పిల్లలతో కలసి తెలుగు కుటుంబాలు సంతోషాలను పంచుకున్నాయి. ప్రత్యేకంగా మహిళలకు నిర్వహించిన ఈ ఆటల పోటీలు ఘన విజయం సాధించడంతో ఇక ముందు నాట్స్, సీటీఏ మరిన్ని కార్యక్రమాలు రూపొందించనుందని.. సీటీఏ, నాట్స్ సంయుక్తంగా ప్రకటించాయి.