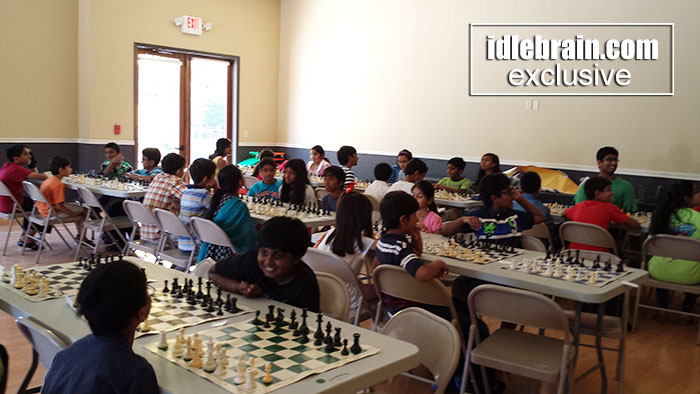 To feature your NRI communty news in idlebrain.com, please mail us at [email protected]
03 June 2013
Hyderabad
NATS (North America Telugu Society) conducted two successful sports events this weekend as part of 2013 America Telugu Sambaralu to be held on July 4 – 6, 2013 at Irving Convention Center, Irving, TX. A Racquetball tournament was conducted on Saturday June 1st at Landmark Club at Park central, Dallas, TX and a Chess Tournament for children of several grades on Sunday June 2nd at Wonderland Montessori Flower Mound, TX.
Out of several entrees from enthusiastic players from all over DFW metroplex, NATS Sports Committee short listed 14 players to participate in the tournament. It was an excellent tournament well received by all participants. Pratap BR and Srikanth M played the finals and after more than 2 hours of intensive match Srikanth finished as winner.
The Chess Tournament was conducted for children of several grades in collaboration with USCF. Over Sixty Children competed in five different categories based on USCF rankings. Each child played three games and winners in each category will be awarded trophies during NATS Sambaralu on July 4-6, 2013. Parents of participating children thanked the NATS team in organizing such a nice tournament in child friendly environment.
The list of Chess Trophy Winners are given below (Top 3 of each of the 5 competition categories).
K-3 U500 Category
1 Pranav Singaraju
2 Snehal Veernapu
3 Ronit Podder
K-3 Open Category
1 Harsha Sirigina
2 Farhan Buvajji
3 Saket Upperla
K-12 U600 Category
1 Rushil Nakkana
2 Tejas Kamtam
3 Rishit Podder
K-12 U900 Category
1 Saisrinivas Gudivada
2 Urvi Vallapareddy
3 Vignesh Sanagala
K-12 Open Category
1 Yashwant Vallapareddy
2 Haneesh Kaku
3 Rohith Chitimalla

NATS Team thanked all the players, sponsors, volunteers, committee members, guests and media for their excellent support during both the events. They requested DFW Telugu community to participate in the following upcoming sports events and make them a grand success as well.
June 8th & 9th 2013 Volleyball
June 15th, 2013 Basketball
June 16th, 2013 Cricket
June 22nd, 2013 Badminton

Besides these local events, NATS is also organizing a Volleyball Tournament at National Level among teams from several U.S. Cities. Finals of the National Volleyball Tournament will be conducted in Dallas on July 6th.
Winners of all the sports events will be awarded during the NATS conference.
All information on sports events and schedules are available at www.natsworld.org or www.sambaralu.org/sambaralu2013.
- - - - - - - - - - - - - - -
North America Telugu Society (NATS) is a non-profit national organization for Telugus living in North America. NATS primary objective is to address the needs and concerns that affect the everyday lives of Telugu people living in North America. The Society will provide needed social, financial and educational support services to the North American Telugu community in an effective and efficient manner.

NATS is a non-political, youth-oriented organization that actively involves its General Body in setting its direction and in providing regular feedback on its programs. NATS is an open and transparent organization where service is emphasized. NATS uses current technology to provide regular communication and services to its members.
NATS will be led by service-oriented Telugus in a democratic fashion without any conflicts of interest. NATS is exempt from Federal income tax under section 501 (c) (3) of the Internal Revenue Code.