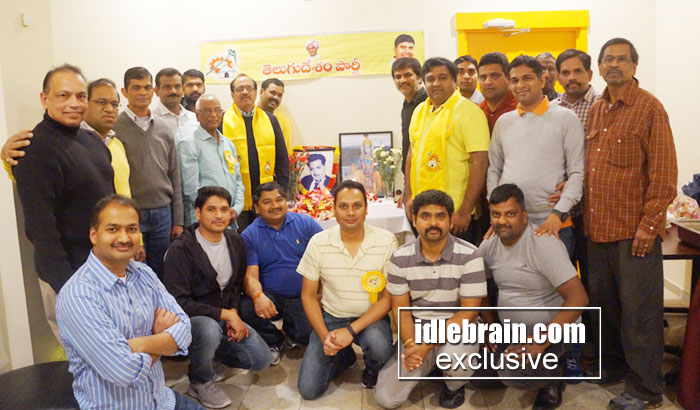 To feature your NRI communty news in idlebrain.com, please mail us at [email protected]
21 January 2015
Hyderabad
Telugu Desam Party Founding President, Former Chief Minister, Viswa Vikhyaatha Nata Saarwabhowma Dr.N.T.Rama Rao's 20th Vardhanthi was conducted by NTR fans and NRI TDP in Philadelphia.
This event was held at New Deccan Spice Restaurant, Norristown and attended by more than 50 people and every one paid rich tributes to Legend NTR. Everyone garlanded NTR and paid respects to the great leader.
An informative video was played on NTR listing out his triumphs, achievements and the services he has done to the people of A.P. Also, another wonderful video was played on his illustrious Movie Career as Actor, Producer and Director and also his prominent role in National politics by forming an alliance with all parties at national level and heading National Front and forming National Front government in the Center.
Several NTR fans and TDP supporters spoke and recalled the revolutionary changes he bought in politics and also mentioned his several service initiatives to help youth, women and farmers. Philadelphia NRI TDP team requested AP government to set up a NTR memorial in Amaravati and Bharatarartna award to NTR.
Sunil Koganti and Sambaiah Kotapati coordinated the event and Ravi Potluri spoke about Legend NTR's amazing achievements both in films and politics and recollected the service he has done to the people. Other Prominent speakers include Senior TDP Supporters and NTR fans – Harnath Doddapaneni, Ravi Veeravalli, Madan Inaganti, Jagadeesh Anumula etc. The following NTR fans - Satish Tummala, Nagaraju Nalajula, Bhanu Prakash Gokanapudi, Sai Jarugula, Rama Muddana, Gowri Karrothu, Gopi Vagvala, Suresh Bellam etc attended this event.