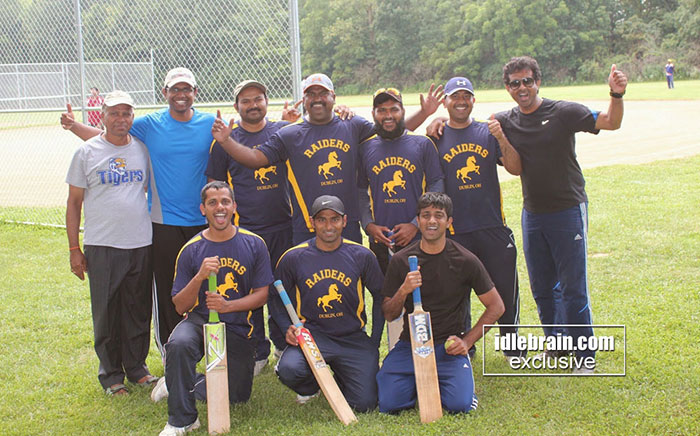 To feature your NRI communty news in idlebrain.com, please mail us at [email protected]
30 July 2014
Hyderabad
Telugu Association of central Ohio (TACO) organized it's annual cricket tournament at the Anheuser Busch Sports park located in Columbus Ohio. The event started at 8:00AM on 7/26/2014 and completed at 10 PM. There is a huge participation for this tournament with a total of 32 teams from different Ohio cities like Columbus, Lewis Center, Hilliard, Cincinnati, Cleveland, Akron and Dayton along with some teams from our neighboring states Michigan and Indiana.
Final game was conducted under flood lights and we had a great entertainment from IUPUI Jags (Indianapolis team) and Hilliard Cricket Club Stars (Columbus team). For the first time in TACO Cricket finals, there was a tie in the regular overs and winner was decided from a SUPER OVER. Hilliard Cricket Club Stars won the TACO 2014 Cricket championship. Congratulations to the finalists and thanks to all finalists for great entertainment.
The tournament was organized by the TACO Sports team Mr. Phani Bhushan Potluri (Vice President), Uma Munagala (Sports Coordinator) and Sudhakar Pochiraju (Sports Coordinator) with the help of over 30 volunteers. Without the help of volunteers, the event would not have been a huge success. TACO executive committee thanked each and every volunteer for their participation in the event.
Trophies were presented to the finalist teams, by TACO President Mr. Sridhar Kesani, TACO Vice President Mr. Jagannath Chalasani and TACO Treasurer Mr. Ravikanth Gude. During the closing speech, Mr. Sridhar Kesani announced that TACO is organizing Bhadrachala Sri Sita Rama Kalyanam in Columbus on Sunday August 10th 2014.