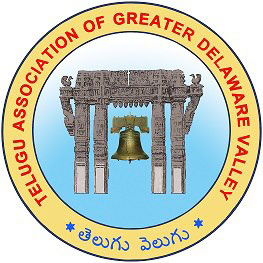 To feature your NRI communty news in idlebrain.com, please mail us at [email protected]
TAGDV (Telugu Association of Greater Delaware Valley) inviting Authors, Poets and Artists for the literary and artistic works to publish in the 40 years Anniversary Souvenir. All are invited to send literary and artistic works - stories, essays, poetry, plays, songs, jokes, photo essays, drawings - for publication in the Souvenir of the upcoming TAGDV 40th Anniversary celebrations on June 28th and June 29th 2013 in King of Prussia, PA.
Unleash your inner talent! Publish your works in the TAGDV 40 years Anniversary celebrations Souvenir! Win the Prizes! Know the thrill of seeing your writings in print! Please visit www.tagdv40.com

Articles are welcome in Telugu and English. The deadline for submissions is May 25, 2013, so HURRY. Full details, including article guidelines, prize money details and submission information, are available on the celebrations website at http://www.tagd40.com. Please visit this website before beginning your work. With your help and blessings, we will strive to make this TAGDV 40 years Anniversary celebrations Souvenir the best one yet!
Souvenir is for the TAGDV 40th Anniversary Celebrations, and the theme of the celebrations is "Telugu Bhasha, Samskruthi, Samaja Seva". As creative artists, you can interpret this theme in your own way in your works as convenient. This being a souvenir of the Telugu Association of Greater Delaware Valley, USA, editorial preference will be given to articles dealing with issues of importance, relevance or interest to the American Telugu Diaspora. Preference will also be given to writers living in the United States. Articles may be in Telugu or English. The editorial committee will strive for a balanced mix of languages, in order to attract Telugu people of all ages and abilities to the souvenir.
The primary targets of these articles will be the Telugu Prajalu living in the US, especially the younger generation. As far as possible, articles should have broad appeal and should deal with issues of general interest. We would like to limit stories on problems of farmers, villagers, girijans etc., effects of globalization, local (Indian) politics (especially violent "revolutions"), and obscure social customs. Instead, we would like to see stories and explorations of issues of daily life in the US, the immigrant experience, the points of view of loved ones left behind, the confusion of growing up in a multicultural household, cultural clashes between generations especially children and grandparents, problems and situations faced by Telugu youth as they come of age in America, mixed race love and marriage, problems faced by first generation immigrants as they age and retire, religion, culture and Indianness in an alien land, and similar topics.
Full details, including article guidelines, prize money details and submission information
A) Articles submitted for publication must be original unpublished works, and may not be submitted for publication elsewhere until the souvenir is released or the material turned down for publication. As a Non Profit organization TAGDV is not liable any for copyright law issues..
B) While articles in any literary form are welcome, the editorial committee has decided on the following prizes to encourage certain forms:

1) Short stories in Telugu: 5 Prizes. Targeted length is about 2-3 printed or 5-10 handwritten pages, but any appropriate size is acceptable.

2) Poems in Telugu: 5 prizes.

3) Naatikalu (Plays): 5 prizes. This is intended to be a resource for Telugu associations in the US, and should be suitable for performance in about 15 - 20 minutes. It may be a children's or adults' play.

4) Geyam (Song): 5 prizes. This is intended to be a resource for Telugu associations in the US. Some indication should be provided on how it is to be sung (either by specifying ragam, or by analogy with a well known song).

C) Electronic submissions in Unicode Telugu or RTS are preferred. Please email submissions to [email protected] or one of the editors below. We will gladly help you with preparing your article for submission. In unavoidable cases, legible handwritten copies will be accepted. In the US, please send to Srinivas Sagaram, 241 Acorn Ln. North Wales, PA 19454.

D) The last date for submissions is May 25th, 2013.

E) The decision of the Editorial committee is final and no appeals will be entertained. While the exact procedure for review and acceptance is not finalized yet, we will make good faith attempts to have manuscripts reviewed by a number of competent people before decisions are taken. However, the final responsibility will rest with the Editor.
For updates and further announcements, please visit the website www.tagdv40.com, with your help and blessings, we will strive to make this TAGDV souvenir the best one yet!