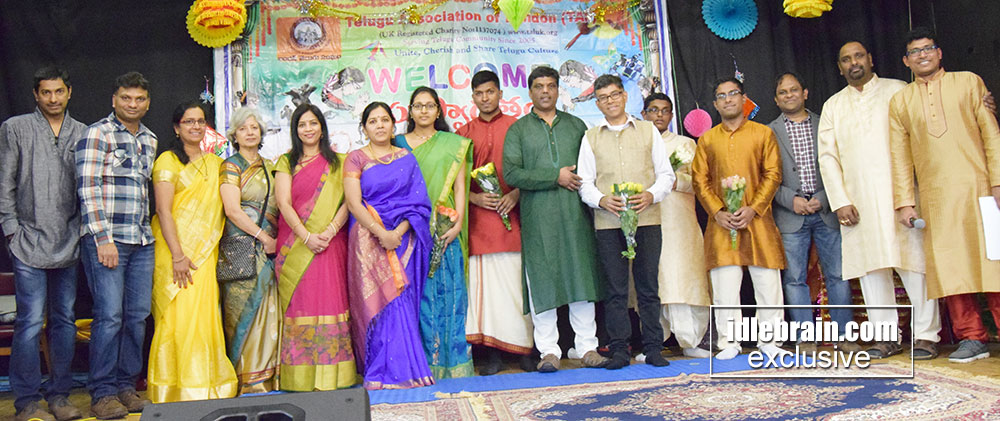 To feature your NRI communty news in idlebrain.com, please mail us at [email protected]
19 January 2017
Dallas
Telugu Association of London (TAL) celebrated Thyagaraja Aaradhana Utsavam and Sankranthi (festival of harvest) in Goodmayes Methodist Church, Ilford London on January 21. Over 300 Telugu families from all parts of London participated in the event creating a festive atmosphere. The special attractions of this celebrations are Bommala Koluvu, colourful Rangoli, Kolatam dance and cookery competition.
In addition to Sankranthi celebrations, Thyagaraja Aaradhanotsavam was celebrated as a tribute to saint composer Sri Thyagaraja Swamy. Mrs. Veena Pani, Music Faculty of TAL Culture Centers (TCC), along with her disciples and other Instrumentalists started the Aaradhanotsavam with Nagara Sankeerthana and enchanted the audience with stunning performance of devotional Pancharathna Kritis.
The jubilant crowd enjoyed the comedy skit and eclectic mix of dances and songs featuring classical and film songs. A variety of Traditional and continental dishes were displayed by the Women as part of cookery competition. Traditional Sankranthi Muggulu are another attraction. Satyendra, chairman of TAL, the trustees Bharti Kandukuri and Nirmala Dhavala thanked all those who participated in these competitions and other performances.
Satyendra urged Telugu community of London to promote and preserve Telugu language, its tradition and culture and pass it on to future generations. As part of that, he requested the parents to enrol their children in Telugu and classical music classes conducted at TAL Culture Centres. He also invited Telugu community to attend 13th TAL Ugadi celebrations to be held in April and make it a grand success.
The Board of Trustees Satyendra Pagadala, Sridhar Medisetti, Bharati Kandukuri, Nirmala Dhavala, Sridhar Somisetti and Kiran Reddy Kappeta extended special thanks to Mr Giridhar Putlur, TCC East Co-ordinator for his successful management of the event and Anil Anantula, Madhav Rao Paidimarri, Nagesh Sarvepalli, Haritha Tanguturi, Ravi Dommata, , Harini Dommata,, Bhargavi Kappeta, Uma Girvani, Naga Gullipalli, Vijay Belide, Swapna Belide, Ranganath Challa and Srinivas Dharanala for their valuable contribution in making this event a grand success.