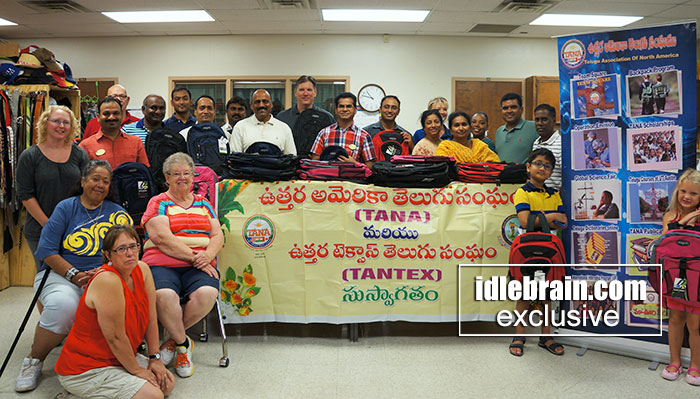 To feature your NRI communty news in idlebrain.com, please mail us at [email protected]
19 Septemmber 2014
Hyderaba
Every year before the schools re-open in USA, Telugu Association of North America (TANA) conducts backpack donation programs in various cities across the country. This program has been initiated by TANA several years ago to give back to the community where we live in.
Following the tradition, this year in the month of August, TANA Dallas team with the support of Telugu Association of North Texas (TANTEX) organized successful backpack programs in various schools in the Southwest region. 600 backpacks have been donated to needy children in the under privileged communities in City of Fort Worth, HED Independent School District in Euless, and Hope Medrano Elementary School in Dallas. The donation program in Fortworth is organized at Brighter Outlook Community Center and the program is attended by Fort Worth City Mayor Betsy Price, Texas State Representative Nicole Collier, City of Fort Worth Council Woman Gyna Bivens and representatives from Dallas Cowboys and Home Depot. They all appreciated the backpack programs and service initiative of "giving back to the community". Dallas City Council Member Adam Medrano attended the donation program in Dallas and appreciated TANA and TANTEX for this gesture of support and kindness which will provide the much needed initiative and good start for the needy families with children getting back to school. The students and faculty at these schools appreciated the generosity of Telugu community.
Speaking about the successful donation programs, Dr. Rajesh Adusumilli, TANA Southwest Regional Representative, thanked all the donors and volunteers who donated their money, time and energy to make this program successful. He also thanked Ramu Narne, Chairperson for TANA Backpack Program and TANA President Mohan Nannapaneni garu for their leadership in making this program a grand success. TANA Past Presidents Dr. Navaneethakrishna Gorrepati, Dr. Prasad Thotakura, Board Director Ram Yalamanchili, Foundation Treasurer Manjulatha Kanneganti, Chairperson of Bylaws Committee Murali Vennam, Chairperson-Team Square Srikanth Polavarapu, Chairperson-Student Services Samba Dodda, Co-Chair-Social Media Paramesh Devineni, Anil Veerapaneni and also various TANTEX members including Narasimha Reddy Urimindi, Subbu Jonnalagadda, Sugan Chagarlamudi, Venkat Danda, Chinasatyam Veernapu and others attended these donation programs and provided their support.