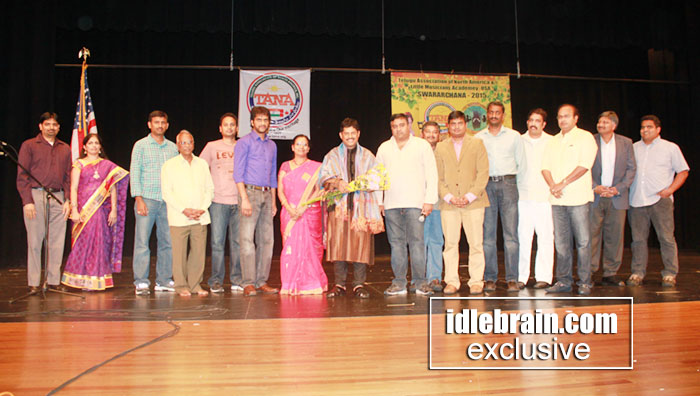 To feature your NRI communty news in idlebrain.com, please mail us at [email protected]
1 September 2015
Hyderabad
TANA Mid-Atlantic Team in association with Little Musicians Academy (LMA) organized Swararchana - An Exclusive Musical performance by Sri Ramachari and students of LMA on Saturday. August 29th 2015 in Upper Merion Middle School, King of Prussia, PA. LMA, New Jersey students performed as part of the Swararchana which was attended by more than 300 people.
This event was coordinated by Ravi Potluri (TANA Joint Secretary) and Prakash Battineni (Mid-Atlantic Regional Representative). LMA students gave two (2) hours non-stop performance which was well received by audience. MC Aparna Vagvala did wonderful job.
TANA Mid-Atlantic team felicitated Sri Ramachary and announced 1 lakh rupees for the LMA building fund. Ravi Mandalapu donated 500$ towards the fund. Philly TANA Team - Nagaraju Nalajula, Satish Tummala, Bobby Yerra worked hard to organize this event and thanked Bharat & Usha Ramaka for the coordination. It was an excellent team effort under the leadership of TANA Joint Secretary Ravi Potluri. TAGDV Secretary Sambaiah Kotapati, Treasurer Kiran Kothapalli, Joint Secretary Suresh Venkanannagari and EC members Gopi Vagvala, Nagaraju Nalajula, SRUTI - President Mrs. Santi Kanumalla, Lakshmi Manda, Srinivas Bhartavarapu, Srinivas Oruganti, Satish Meka, Venu Battini, Prasad Kunarapu, Hari Maharshi etc attended the event.
Audience appreciated TANA's efforts for bringing the program to execution and for the contributions to the community. Program ended with a vote of thanks followed by India National Anthem.