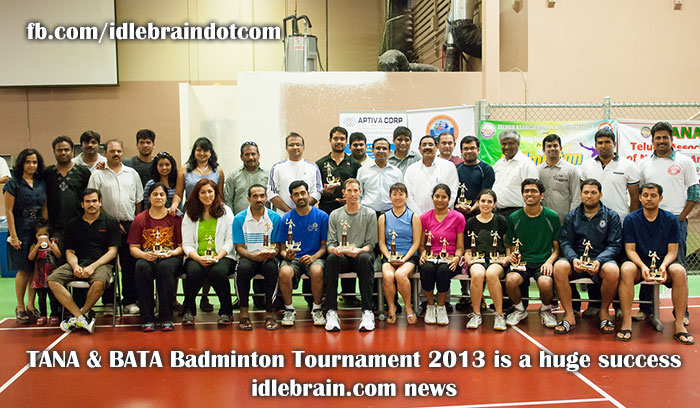 To feature your NRI communty news in idlebrain.com, please mail us at [email protected]
22 May 2013
Hyderabad
TANA & BATA Badminton Tournament 2013 is a huge success!!
Telugu Association of North America(TANA) & Bay Area Telugu Association (BATA) organized the 2nd annual Badminton Tournament on May 19th 2013. Aptiva corp was the grand sponsor for the tournament. Swagat Indian Cuisine was the food sponsor. The proceeds from the tournament were donated to TANA Scholarship Program.
There was a huge response to the tournament. 24 Men's Doubles teams, 18 Men's Single, 6 Women's Doubles teams, 8 Women's Singles Teams & 16 Mixed Doubles Teams enrolled in the tournament.
The games were very close and the audience witnessed a number of nail biter finishes in the tournament. The games started at 8AM and went all the way through 6PM. The enthusiastic spectators (consisting of spouses, children, family & friends) provided a lot of support by cheering .The players responded equally by hitting spectacular smashes and displaying deft and finesse in drop shots. The women teams were very sportive and were cheered by their supporters. Overall, the tournament was conducted in a very professional and organized manner to the audience & players delight.
During the award presentation ceremony, Vijaya Aasuri (BATA Advisor) congratulated all the players and invited guests onto the stage. The guests for the presentation included Divi SivaRam garu (Ex MLA), Jayaram Komati (Ex TANA President), Hemarao Nandipati (TANA RVP), Veeru Vuppala (BATA Advisor / TANA Jt Treasurer), Kalyan Kattamuri (BATA Vice President) Yaswanth Kudaravalli ( TANA Sports Committee Chair) , Satish Vemuri (Aptiva corp) & Ashok Kolla (TANA student committee Chair).
Speaking on the occasion Jayaram Komati congratulated the players for dedication to the game and their support for the tournament. Divi Sivaram garu expressed his happiness & congratulated all the participants. Hema Rao Nandipati said TANA and BATA have been working as one to organize several events in the past several years and thanked Yaswanth for initiating the Shuttle Badminton tournament.
On behalf of BATA committee Kalyan Kattamuri (BATA Vice President) said that BATA has been conducting annual Cricket and Volleyball tournaments to raise funds for various non-profits (Sankara Eye Foundation & India Literacy Project – ILP etc ) and thanked all the teams for their support.
Yaswanth thanked the tournament organizing team Veeru Vuppala, Prasad Mangina, Ravi Thiruveedhula, Sumanth Pusuluri, Ramesh Konda, Sridevi Pasupuleti and BATA Executive Committee members for their help in conducting this event. Yaswanth also thanked the volunteers Sri Hari, Sudheer, Uday & Vasu and all other participating members who assisted with umpiring the games, Srikar Boddu (Photos) and Virijallu (Bay Area Telugu Radio) were specially thanked for tournament coverage.
Yaswanth conveyed a message from Prasad Thotakura (TANA President) congratulating all the players and thanking the volunteers for making the tournament, a resounding success.

Trophies were presented to the tournament winners by TANA and BATA committee members.
Results from the tournament:
Winners (Men's Doubles): Abhiram Parvataneni/Raghuram Parvataneni
Runners (Men's Doubles): Deepthi Galla / Kirthi Galla
Winners (Men's Singles): Jared Babula
Runners (Men's Singles): Rajesh
Winners (Mixed Doubles): Shashank / Sadhana
Runners (Mixed Doubles): Srinivas Nuthalapati/Sivakumari Chava
Winners (Women' Doubles): Siva Kumari / Ellen
Runners (Women's Doubles): Reena Katoch / Kavitha
Winners (Women's Singles): Sadhana
Runners (Women's Singles): Surabhi