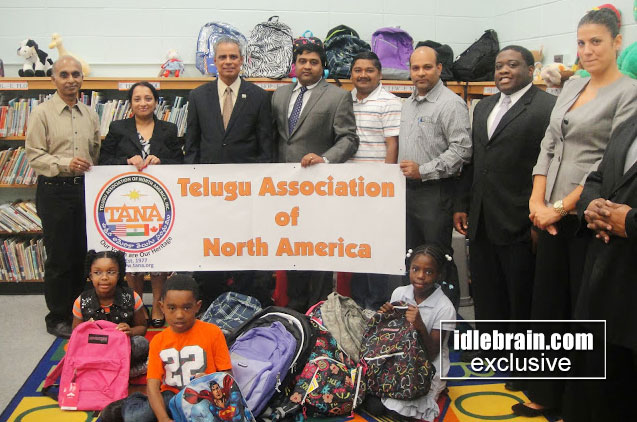 To feature your NRI communty news in idlebrain.com, please mail us at [email protected]
17 September 2013
Hyderabad
Telugu Association of North America organized TANA Backpack program to the needy kids of Grandview Elementary School, Piscataway, NJ on Monday September 16th 2013. As many as 101 backpacks were distributed to the needy kids in the Piscataway schools. Mr. Ravi Potluri, the Regional Director of TANA for Mid-Atlantic area and Ms. Laxmi Devineni has coordinated this event. TANA Backpack Program was able to provide backpacks stuffed with school supplies donated by Mr. Ravi Potluri.
Mrs. Manju Bhargava, TFAS – President thanked TANA for letting TFAS be the co-host for the event. Other prominent Telugu community members attended the event are Vidyadhar Garapati, Nagaraju Nalajula, Suresh Makam (TFAS - Treasurer) etc.
New Jersey Assembly Deputy Speaker Mr. Upendra Chivukula, who attended as a chief guest for this occasion appreciated TANA for this gesture of support and kindness which will provide the much needed initiative and good start for the needy families with children getting back to school. The students and faculty at the Grandview Elementary School appreciated the generosity of Telugu community.
TANA Mid-Atlantic team is looking forward to organize many more such charitable events in future under the leadership of President Mr. Mohan Nannapaneni and promise to assist all the Telugu speaking people and other Indians during emergency and needy times.