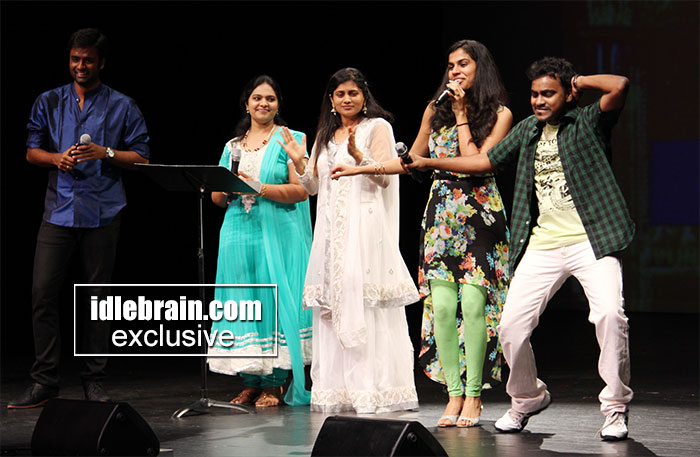 To feature your NRI communty news in idlebrain.com, please mail us at [email protected]
12 September 2013
Hyderabad
Nashville,TN:TAS(Tennessee Andhra Samithi) celebrated Fall Music Fest on Sep 6th,2013 at Ingram hall,Blair school of Music in a Grand and Pompous style. More than 400 people attended this event. Multi talented, Young and Energetic renowned play back singers Mallikarjun,Hema chandra,Sravan Bhargavi and Gopika Purnima has stolen the show with their stunning performances and captured the hearts of the audience present at the event. The evening featured songs from all musical hits in recent times and old times aswell, which made it a memorable event for everyone in the Auditorium to remember forever. They also involved the audience to sing and dance during their musical performances, which captured the special moments of the event. No doubt, this was one of the memorable Telugu Musical concerts that never ever happened in Nashville area in recent times. The audience was spellbound and enjoyed every minute of the program.
The program traditionally Kicked off with Ganesh Pooja and Lamp lighting by TANA President Sri Mohan Nannapaneni garu,Sri Dhananjaya Rao garu,TAS President Revathi Mettukuru garu, Secratary Ranganayaki garu and Treasurer Ramesh Aramandla garu, IAN President Sri Anil Sahani garu, TAS Committee members and TAS Past presidents.

TANA President Mohan Nannapaneni garu was the Chief guest for the event.TANA Joint Treasurer Anjaiah chowdary Lavu garu and South East Regional Representative Goutham Gurram garu graced the event as special Guests.
TANA President Mohan Nannapaneni gave a captive speech about how TANA has been serving the Telugu Community for the past 36 Years since its inception and also briefed about TANA Foundation and TEAM Square(TANA Emergency Assistance Management Team)
TAS President Revathi
Mettukuru
garu welcomed the guests and also expressed her happiness for putting together a wonderful show which enthralled a crowd of 400 present at the event. She extended Special Thanks to TANA(Great Grand Sponsor),Grand Sponsors NATA,NATS,swagruha foods,Sriji International market, Sponsor Patel Brothers and donor Karrissima.
TAS felicitated TANA President Mohan Nannapaneni,Performers Mallikarjun,Hema chandra,Sravana bhargavi,Gopika purnima,IAN President Mr. Anil Sahani,Sriji International Market Steve garu, Srinivas Durgam(Sound System and DJ) and Sponsors.