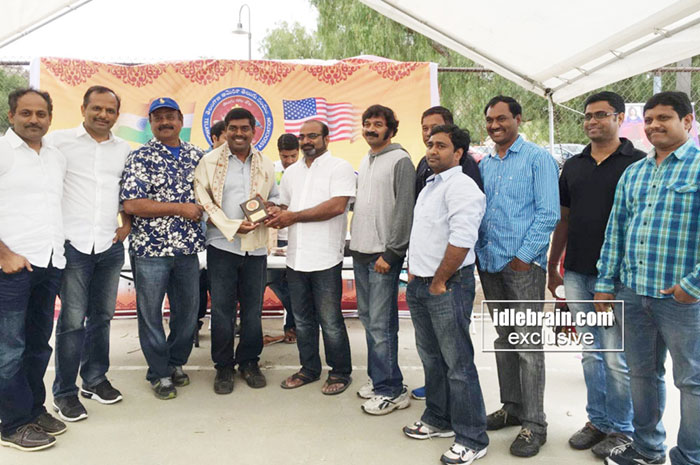 To feature your NRI communty news in idlebrain.com, please mail us at [email protected]
14 June 2016
Hyderabad
Telangana American Telugu Association (T.A.T.A), successfully hosted Telangana formation day celebrations Vanabhojanaalu event on Saturday June 11, 2016 at Oak County Park in Simi Valley, CA on a beautiful, pleasant sunny day. 200 acre park with its green trees, and beautiful scenic atmosphere seemed as if it's specially built for Vanabhojanaalu event. LA Telangana community turned in over 750 members beyond expectations to be part of this first ever live event to cook and eat freshly prepared delicacies of Telangana region at the park. Proving their cooking talent by making so many Telangana delicacies T.A.T.A organizers cooked authentic onsite Telangana dishes such as Ankapoor Chicken, Pacchi Pulusu, Challa Chaaru, PontiKoora Pappu, Bagara Baingan, Gudaalu, Goat Fry, Dum Biryani etc... Also all guests were served with special pindivantalu Sakinaalu, Sarvapindi. Guests were served with onsite grilled Corn & Tandoori Chicken, Participants involved in Teenmaar dances with live DJ music. The weather was at its best lending hand for the people to enjoy what was considered one of the most joyful event in Los Angeles. Event was sponsored by Jhansi Reddy, Anil Errabelli, Appi Reddy, Harinder Tallapalli. Cultural activities were supported by Bay area team Srinivas Manapragada, Nishant Sirikonda and Ravi by starting with Telangana anthem followed by Telangana songs and other activities.
Anil Errabelli Joint-Treasurer welcomed the audience and explained T.A.T.A objectives and encouraged to take Membership and thanked Dr. Pailla Malla Reddy, Chair, Advisory Council and Jhansi Reddy Garu President for their kind support. Harinder Tallapalli Regional Vice President Los Angeles thanked all the organizers and Regional Co-coordinators and felicitated and trophies were awarded to Organizers, LA Telangana Leaders and T.A.S.C Team. All Local talent activities and games Winners were awarded with trophies.
The event organizers included Anil Errabelli, Harinder Tallapalli, Chandra Valaboju, Ravi Dharanipathi, Vinod Kandikonda, Nagaraj Goud, Santhosh Gantaram, Raj Gande, Vijay Kasanagottu, Shireesha Tallapalli, Suvarsha, Bindhu Gande, Praveena Kasanagottu, Sucharitha Valaboju, Prahallad Enaganti, Suren Mariserla, Yugandhar Mothe, Linga Rao Gujja, Praveen Yerramada, Pradeep Boddu, Damodhar Takkalapalli, Ganesh, Harish, Krishna Dev, Vijay Kasanagottu, Barghav among others.