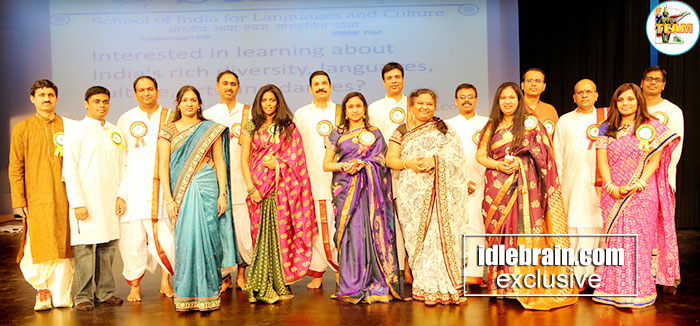 To feature your NRI communty news in idlebrain.com, please mail us at [email protected]
12 April 2014
Hyderabad
Bloomington March 29, 2014: Telugu Speaking people of Minnesota gathered at Kennedy High School in Bloomington to Welcome Telugu New Year Jayanama Samvastaram. This event was organized by Telugu Association of Minnesota (TEAM). This was a prefect weather day after long severe winter this year for Minnesota Telugu families to attend Ugadi event organized by TEAM. Telugu families were greeted by TEAM Front Desk with smiles and were directed to auditorium.
Ugadi event started with Ganapati pooja performed by priest who later wished everyone a happy Jayanama Samvastaram. With over 1400 people in the auditorium and festive atmosphere TEAM President Durga Prasad Kunapareddy wished everyone Happy Ugadi and Welcomed Jayanama Samvastaram. He also expressed that TEAM is much stronger under his leadership and will serve all Telugu speaking people who made Minnesota as their home from all parts of India. TEAM was formed years ago to preserve and perpetuate cultural heritage of Telugu speaking people of Greater Minnesota and he reaffirmed that TEAM will continue to do the same. He thanked support given by Telugu community to this organization and also thanked all the volunteers who take time off their busy schedule to make every TEAM event a memorable one.
Around 150 people (Adults/kids) performed in cultural activities during this event. Stage decoration and electronic displays via projector added color and festive look. Colorful lighting added charm and beauty while external sound system made it a complete platform for entertainment.
Programs during the evening varied from classical dances to dhamaka songs with mix of folk dance, skit and mono action. A number of classical dances were performed by kids and adults. Some of the classical performances are Kuchipudi dance, Bharatanatyam dance by kids, Shiva Stuti and Mohini Bhasmasura. This time it was kids turn to enact Mohini Bhasmasura. Audience of all ages enjoyed this recital. A few Singers came together to sing ANR melodies as a Tribute to ANR and some popular Telugu songs. Veenaa Vedika enacted a hilarious Telugu skit and audience couldn't stop laughing to their comedy dialogues. Another highlight of the evening was mono action by a visiting Dad from India. TEAM appreciated very much this gesture from visiting parents and having visiting parents attendance during such celebrations is a blessing to the organization and community. It feels home far away from home when we have elderly parents by us and enjoy with us. Kids and adults came together to dance for dhamaka songs. The jubilant atmosphere brought reminiscence of celebrations back home with family and friends.
Divas group (a group of four girls) performed dance to show United India. The entire auditorium was filled with patriotism when the electronic displays showed Indian fighter jets flying while the girls danced to famous Roja movie song vinara vinara. Chinnari Dance troupe enacted Panchatantra with a variety of hit songs which brought laughter on kid's faces. Fashion show by kids and women added beauty to the evening. Over all there was a very good variety in the themes chosen and participant's ages.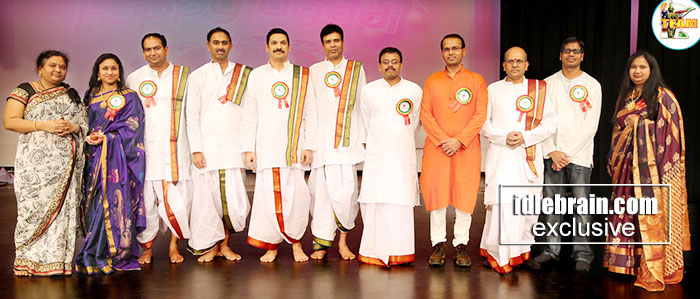 A number of vendors setup stalls during social hour. Telugu families met new friends/ families and introduced themselved also greeted known friends and families during social hour enjoying snacks served by food vendors. A few kids setup a table to display how Asha for Education has been helping educate unprivileged kids in India. TEAM Marketing Department, TEAM President and Vice President thanked vendors for their support to TEAM and thanked in particular Platinum sponsors Tamarack Hills Family Dentistry, Paradise Biryani Pointe for their sponsorship to this event.
TEAM Vice President Srikanth Kammojala specially thanked event lead Sri Laxman Sunkam for making this event happen and Telugu families attending the event. He also thanked volunteers, participants, parents who encouraged their kids to participate and TEAM Core, extended committee members in making this event another successful and enjoyable community event bringing Telugu families together.
Some of the families who were present for the first time said they never imagined celebrating Ugadi with so many Telugu speaking families so far from home. The event concluded with DJ sponsored by Vajraasys where kids and adults danced on dancing floor for a pleasant evening with great happiness.