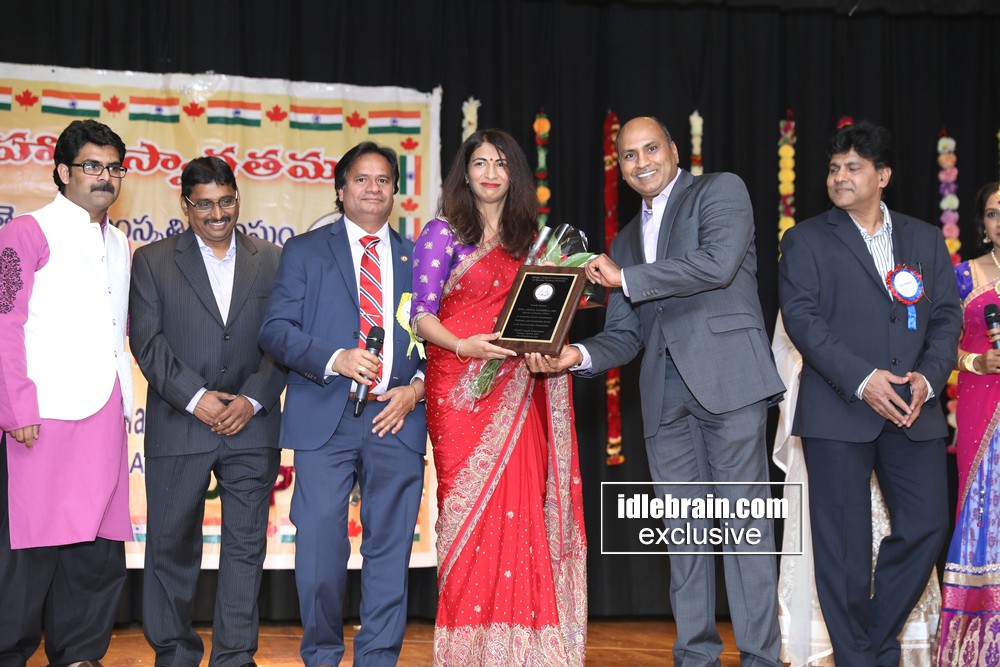 To feature your NRI communty news in idlebrain.com, please mail us at [email protected]
31 October 2017
Hyderabad
The Telugu community of Greater Toronto Area have celebrated Telugu new year 'Ugadi' with great zeal at Lincoln M. Alexander, Secondary School auditorium in Mississauga, Canada. Several hundreds of Telugu families from surrounding cities Toronto, Markham, Brampton, Mississauga, Oakville, Waterdown, Kitchener, Waterloo, Cambridge, Hamilton, Milton and other areas have joined the six hour long program that is packed with music, drama, dance, comedy and many more.
Event started with Socialization and video display of the progress on the new Capital of Andhra Pradesh 'Amaravathi', Metro Rail Project of Hyderabad, and an Inspirational Video to empower the Canadian Telugu Community to live happily and achieve more in their life. Received remarkable responses from the participants with glow of happiness and sparkles of joy for organizing this event successfully with full of family entertainment and a great food delights.
The venue was decorated with grace and colourful floral designs welcoming the Telugu Cultural Association of Greater Toronto (TCAGT) Guests, Sponsors, Members, Families and Friends. Rekha Ghanta and her team did a spectacular decorations at the event with a great floral combinations and colors.
The festival has begun with Canadian National Anthem followed by "Deeparadhana". Executive committee members, trustees and their spouses lit the light the traditional Indian lamp.
Telugu Association Secretary Koteswara Rao Polavaru delivered the welcome address and informed the TCAGT Toronto Telugu Association activities and the unique programs that were presented to community this year. He introduced the Master of Ceremonies Uma Saladi, Niranjan Ghanta & Sridhar Nagavarapu for the evening program to conduct.
Treasurer Devi Chowdhary and Chairman Board of Trustees Srinivas Gadepally delivered festive greetings.
Surya Bezawada, Andhra Pradesh Non-Resident Society (APNRT) Coordinator and TCAGT Trustee delivered the Diwali greetings, and informed the Telugu Community for the outstanding services that have been provided through this twenty eight year old Telugu Cultural Association of Greater Toronto (TCAGT). He stated, with TCAGT networking events new immigrants were able to make new family friends, non resident Telugus were able to introduce Telugu Language, Culture and Festive experiences to their kids to embrace. Founders of this association envisioned to pass this to generations to come through this great association. Audience acknowledged and applauded the founders for their vision, hard work, and awesome service to the Telugu Community in Canada.
He informed the community gathering, the key services provided through APNRT (www.apnrt.com). One of the new service is introduced for non resident Telugus globally, an APNRT Group health insurance policy that covers medical services for their loved ones in India including parents and siblings. With this most of the NRTs worries on their parents health back home will be get solved. APNRT is the Government of Andhra Pradesh Initiative and its membership is free for all the non resident Telugu people globally. Further details can be obtained from the website www.apnrt.com.
Surya Bezawada introduced the chief guest of the event Hon. Minister Dipika Damerla garu. He said, Dipika Damerla garu is a proud Telugu Community member and she too participated several TCAGT events before joining the Canadian Politics. After so many challenges with hard work and persistence she got elected to the provincial parliament and then became the Minister of Seniors, and spending millions of dollars towards the services of Seniors of Ontario. Telugu Community is very proud for her services to the Canadian Community through her Ministry.
Hon. Minister Dipika Damerla, Minister for Seniors, delivered the Diwali greetings, and acknowledge the invaluable twenty eight year long services of TCAGT to the Canadian Telugu Community. She informed that Scattering cremated ashes of loved ones is no longer a concern in Ontario. Since 2009, it has been legal in Ontario to spread ashes of human remains on provincial Crown land. Scattering ashes is allowed in all Ontario provincial parks both on land and in waters because the government recognizes that the practice is an important part of the religious beliefs of many Indian families.
She acknowledged the association committee members volunteering, hard work and dedication in preserving the Telugu Cultural Heritage and celebrating the Hindu Festivals in Canada. She presented a certificate of appreciation to the TCAGT Secretary.
TGAGT Committee felicitated with a shawl, flowers and memento for her outstanding services to the community and seniors.
Hon. Jeffrey Friedman, 1st Vice District Governor of A711, delivered the Diwali greetings, and informed the Global Telugu Lions Clubs services to the community. Eye restoration camps, Clean Water RO projects, Feed the Hunger program, Lions Eyesight, Diabetes awareness program and many other projects were undertaken by the Telugu Lions Club helped thousands of families worldwide. He invited the Telugu community new members to join and participate in charitable services through the Lions Clubs International foundation and help the global community.
Murila Krishna Lolla Introduced special invitee of the celebrations Natyamuryi Ms. Nadiya Shaik. He informed her fabulous talent, dedication, and passion towards the Telugu Traditional Kuchipudi Dance and the awards that she won for her performances worldwide.
Natyasiromani Nadiya Shaik, Kuchipudi Exponent came from India to participate in TCAGT Diwali Celebrations. She presented Bhoshambo, Narayanathe Namo Namo, and Jakkulapurandari finest Kuchipudi Dance items that mesmerised the audience. Rani Vemuri, Priya Polavarapu presented felicitated with a shawl. Devi Chowdhary presented an honorarium from TCAGT.
Popular singers Hanishka Polimera and Rajendra Prasad Moturi presented traditional and film songs, Gana Naayakaaya Song By Nikhil Bottu, Ganesh Kruthi - a Bharatanatyam dance By Manvi Pakalapati, Jaya Janardhana Krishna Radhika Pathe-song By Devi Shriya Nagavarapu & Sahithi Yalamanchali, Lord Ganesha Song By Haniskha Polimera were unique performances that enthralled the audience.
Kanna Nidurinchara - dance from Bahubali movie by 14 Telugu kids, choreographed by Chitra is the highlight of the evening.
Telugu Medley Dance by Neha Jarabandi, Hima Bindu Jarabandi & Kayani Bottu, Vachinde - FIDA Movie Dance By Triveni Bondi and Indu Reddy Nadam, Pranamu Pranavakaramu, a Semi-classical dance by Esha Sri Pakalapati, Ravana Asura Asura - Jai Luv Kush movie Dance by Madhav Bezawada, Pilla Nuvvuleni Jeevitham from Gabbarsingh Movie Dance By Sai Niranjan stood as special talent performances received large audience applauses.
Yoga Dance by Uma Saladi and Ritu Bahadhur was a special attraction and it is mix of Music and Yoga unique presentation.
Ladies Fashion Show with fusion filmy dance stood as the highlight item of the event which is Choreographed by Sreevani Moosapeta.
Priaya Polavarapu, Anitha Bezawada, Haniskha Polimera, Maithri Chowdhary, Srinivas Gadepalli,, Durga Guntellu, Rajesh, Sreevani Vissa, Prabha Nagavarapu, Suresh, Kiranmai Pinnamaneni, Mohan Bottu, Kalyani, Bala Dakka, Uttaresham, Deepthi Chowdhary were also present. Media coverage by Asian television network (ATN), photography services by Sudheer and Aakash Kolli, audio services by David.
Traditional delicious food freshly cooked and served by Anitha Bezawada and Team.
The audience enjoyed the dances choreographed by professionals enthralled all the ages of the community members.
Platinum sponsors of the event are Rao Vajha, Century 21, Dr. Cyril Tahtadjian, Dentistry in Streetsville and Bharat Batra, Vice President & SBI Branch Head Mississauga.
All acknowledged the executive committee, and the vibrant Telugu Community for the continuous preserving, promoting Telugu language and culture for the past twenty eight years.
Secretary Koteswara Rao Polavarapu provided vote of thanks and TCAGT event ended with chanting Indian National Anthem. Indeed, the event has brought fun, excitement and high performance with a great success.