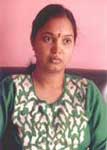 The Tamil film industry received a jolt last week when one of its starlets hanged herself after failing her lover to marry her. A spring of setbacks, starting with a messed-up knee surgery, indifferent career, and finally rejection by her lover, drove 34 year old Viji to end her life on 27th November.
But, before she hanged herself from the ceiling fan in her Mahalingapuram apartment in busy central Chennai, Viji made sure she implicated the lover, small-screen director AR Ramesh, in her death by leaving behind an audiotape, which contained his admission of love for her. She was driven to suicide only after Ramesh went back on his promise to marry her, Viji said in a note she left behind.
She also left a letter for Tamil Nadu chief minister M Karunanidhi pleading that her body be spared the disfigurement of a postmortem. There were also notes for her father Aswath on how to deal with her meager wealth, and one for her lawyer, the contents of which are not known. It is said that the CM was quite upset with Viji's death and told the officers to get Ramesh. This resulted in a manhunt for the director, who fled to Coimbatore after the suicide. When he was caught a few days later, he said he had never promised to marry her because he already had a wife and children. Unimpressed, the police had locked him up in a jail where he awaits trail for "abetting suicide" under section 306 of IPC.
CM has helped Viji a couple of years ago by getting Apollo Hospital to pay her huge amount in compensation after a knee surgery gone wrong reduced her to cripple. Another surgery restored mobility and Viji returned to tinsel town only to find that opportunities were hard to come by. A few friends such as hero Vijay Kant tried to help with small roles and then came a chance to work for a teleserial and meets it director Ramesh. The inevitable happened and like many other star affairs, this too went sour when she demanded that Ramesh marry her. At a meeting arranged at a posh hotel, with Viji's father and Ramesh's wife also participating, the man offered to continue the affair if she did not insist on marriage. Enraged, Viji left the venue screaming she would commit suicide and blame Ramesh for it. Her father's efforts to pacify her seems to have worked but it now appears she was panning suicide down to the last detail.
That morning she returned from the temple, sent her father to the bank to remit some money and gave a pager message to close friend telling him she was leaving for good and he must take care of her father. Then she hanged herself after recording the last telephonic conversation with Ramesh and writing the suicide notes. The friend rushed to the flat only to find Viji hanging from the ceiling fan, dead.
Viji was not exactly a busy actress but, in a career of over a decade, she figured in 40-odd films and made fairly good impact through films like Kozikoovuthu (her first) and Vijaykant-starrer Simhasanam. Her death is another example of how starlets, involved with co-stars or film technicians disintegrate into deep depression when there is a setback and resort to suicide. Other victims were Urvashi winner Shoba, who could not work matters out with cinematographer-cum-director Balu Mahendra because he was married. She hanged herself after a tiff with him in 1979. The suicide list is not really short - Kalpana, Lakshmisree, Vijayasree, Kumari Padmini, Phataphat Jayalakshmi, Jayalakshmi and Silk Smita.
It is said that Lakshmisree hanged herself in the bedroom while her producer lover peacefully slept through the night. The matter was hushed up, as he was a big shot. Phataphat Jayalakshmi killed herself after boyfriend Sukumar, nephew of famous hero and former CM of Tamilnadu MGR, could not marry her.