August 22, 2006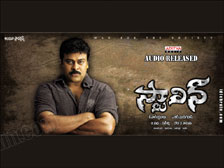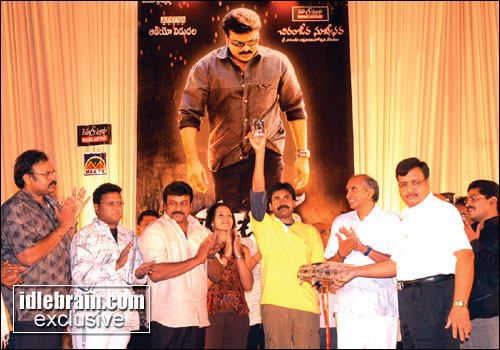 Pawan Kalyan releasing the audio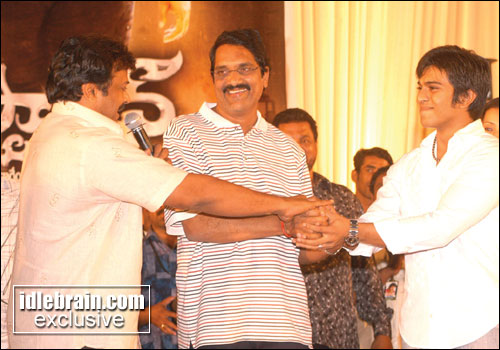 Chiranjeevi handing over Ram Charan Tej to C Aswini Dutt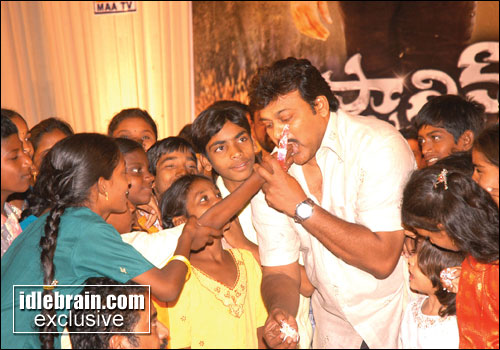 Chiranjeevi celebrating birthday with AIDS infected/affected children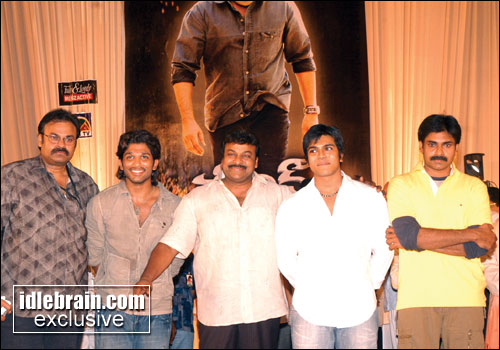 Konidela heroes
10.10 PM IST - Stalin Audio release and Chiranjeevi birthday celebration function was organized in a never before manner and in a grand style. This function was the longest among all Chiranjeevi functions and lasted for more than 5 hours.
Sidelights : During initial days of CCT inauguration, there used be 10 to 15 people giving blood on a daily basis at Chiranjeevi Charitable Trust. These days the number of Donors at CCT has gone upto an average of 70. On the eve of Chiranjeevi birthday more than 500 fans turned up for Blood donation at CCT Jubilee Hills, which is a record. HATS OF TO CHIRANJEEVI for his social commitment towards the society.
10.00 PM IST - Megastar Chiranjeevi thanked paruchuri Brothers for their work in Stalin. Every one of you are powerstars(referring fans). Chiranjeevi introduced his son CHIRAN TEJ to fans. Chiranjeevi thanked Police department and also to Dharmavarapu subramanyam for arranging the Lalitha kala thoranam venue.
9.55 PM IST - Speaking about Stalin movie Megastar Chiranjeevi said, Stalin makes you think and act. Chiranjeevi said, I am not going to talk about the range of success, but I liked this subject and I can relate my self with the Stalin Subject. Gurazada Apparao saying 'Desanni Preminchamanna manchini Penchamanna' will aptly suit to the subject. Manisharma gave a very good music to the movie.
9.50PM IST - Chiranjeevi gave an inspiring speech on AIDS awareness and requested all to involve in the AIDS awareness program and eradicate AIDS from the system.
9.40 PM IST - Speaking on this occassion Megastar Chiranjeevi revealed that Ram Charan Teja will be introduced by C Aswanidutt on Vyjayanthi banner and this movie will be directed by Puri Jagan. Chiranjeevi celebrated his birthday by cutting a cake in the presense of 20 kids on the dais.
9.35 PM IST - MAA TV screened a small tele documentary on Chiranjeevi from his childhood days to current days.
9.30 PM IST - Stalin Songs were Projected and shown to the audiance and public. Before that paruchuri Goplakrishna, megastar Chiranjeevi, Trisha and Dharmavarapu Subramanyam gave short speeches
9.20 PM IST - Paruchuri venkateswara rao gave a energetic speech about stalin and he said after the release of the movie every andhrite wish that Stalin should be part of their home and society. Story is the main weapon for stalin and we are feeling proud to be part of this movie He wished the movie become super hit.
9.15 PM IST - This funcion was live telecasted by MAA TV and aired thru Radiomirchi. The songs were very good and refreshing, manisharma gave refreshing tunes to STALIN album.
9.12 PM IST - Birthday Boy and Padmabhushan Megastar Chiranjeevi arrived to the venue and the fans went berserk and he has got standing ovation on this ocassion. On the arrival of Chiranjeevi, organizers arranged a special song. Powerstar Pawan Kalyan is going to release the Stalin audio and given to Matrix Lab's president Nimmagadda prasad and handover the second casette to MAA TV chairman Murali Krishnam raju
9.09 PM IST - The much awaited program, that is the Stalin audio release function is going to happen in few minutes. Anchors are inviting all the distinguished guests on this occassion. Daggubati Suresh babu, K Raghavendrarao, Chota K Naidu, Anand Sai, peddada Murthy, KL Narayana, Tagore Madhu, MAA TV Chairman Murali Krishnam Raju and many other guests were invited to the dais.
9.06 PM IST - Powerstar Pawan Kalyan gave little sweet speech and appreciate the fans and CCT initiatives in the blood donation and eye donation activities.
9.04 PM IST - About 50 Chiranjeevi fans who donated blood minimum 10 times were felicitated during this function. Before chiranjeevi started Blood campaign about 50000 donors used to donate blood per year. After Chiranjeevi started this drive, the donors number per year is increased to 350000. This can be possible only with the stature and image of Megastar. CCT has supplied 70,000 blood units to the needy people and and was given eye to about 1700 people, which is a record by any standards.
9.00 PM IST - Paruchuri brothers who penned dialouges to 25 Megastar movies were felicitated in the ocassion by Powerstar Pawan Kalyan. Incidentally forthcoming mega opus Stalin is their 25th film with Megastar.
8.55 PM IST - Padmasri Dr Allu Ramalingaiah memorial award was given to Dr Dharmavarapu Subramanyam by Power Star Pawan Kalyan. This award is sponsered by S Kondala Rao. This is the third award and previously Manorama and Brahmanandam got these awards for 2004 and 2005 respectfully.
8.47PM IST - Choreographer Ashok Raj and Comedian Shivareddy is going to perform a for the title song of Shankar Dada MBBS. The steps in this song are going to be a mix of both SD MBBS and Stalin Steps. Allu Arjun also joined the group in the middle of the song.
8.45PM IST – Powerstar Pawan Kalyan has just arrived to the venue. A roaring welcome to the powerstar pawan.
8.30 PM IST - Memento distribution to the 10th class, Intermediate, EMACET and Edcet toppers by Allu Arjun.
8.20PM IST – Kids are doing dance to Jai Chiranjeeva Jagadeka veera song from JVAS. Abhinaya sri is performing to Bangaram song 'Thadu bongaram thala thala vungaram . Audience and fans go frenzy with these dance bits and performance. Abhinayasri along with Nikita performed dance to a number that has a mix of all Famous hits like Aaa ante Amalapuram, jarugu jarugu manavadu vachadooo, Pattu pattu Cheyye pattu from SD MBBS and to Jai Chiranjeeva songs
8.10PM IST – Glamour doll and Stalin movie Heroine Trisha just arrived to the venue. In the meantime Gajal Srinivas is presenting some of his finest gajals.
8.00PM IST - Masterji a lyricist from Telangana who wrote lyrics to Pawan kalyan's Johnny wrote a special song on Chiranjeevi and he is performing the same at this moment. A while back palyback singer Rekha sung 'Aa ante amala puram' song from Arya movie
7.45PM IST - Chiranjeevi Rastra Yuvatha Member Sreekanth wrote a book on Megastar titled 'Padmabhushan Chiranjeevi - Visista Vyakthi Chiathanya Spurthi' was released by Allu Aravind on this ocassion.
7.40 PM IST - Allu Arjun and Ram Charan Teja were called to the dais to greet Audience. Anchors calling Ram Charan Teja as Terastar while inviting him to the dais. Choreographer and Director Lawrence trained a physically challenged group and they were performing to an Hollywood dance number
7.30 PM IST - The Highlight of the function is Comedian cum Hero Suneel Dance to the famous Aaj Ka Goondaraj song ' No one can dance with me, no one can take a chance with me. people got crazy with his superb scintillating dance number and fans in the auditorium become frenzy with Suneel sizzlers.
7.20 PM IST - Felicitation programme was started at 7.20PM IST. World Famous Mimicry artist and Gunnius book of world record holder Dr Nerella Venumadhav was fecilitated by Dr Venkateswara Rao. The following list of people were also felicitated in this high profile event.
1) Dr Nerella Venumadhav
2) Dr Samaram
3). Pasupuleti Ramarao - Senior Journalist
4). Muralikrishna of Megapower Magzine
A felicitation is also going on for those people who has done maximum blood donation to the Chiranjeevi Charitable Trust.
7.15 PM IST – The highlight of the tonight cultural event was the dance program by the Nataraj Dance group. Telugu movie star Tarun and heroine parvati melton joined Nataraj to set the open air auditorium to blaze. They have danced to the following movie songs.
Tappu tappu tapori – Gangleader
Rajasekhara aagalenuraa – Mugguru Monagallu
Manmadha manmadha mama putrudaa – Tagore
Priyatama – Jagadeka Veerudu Athiloka Sundari
Bava baava – Bigboss
Kodikuraa chillu gaaree – Andarivadu
7.00PM IST – DTS Anand has shown some thing unique with his talent. He has mimed the music of Mahaprana rupam song from Sri Manjunatha movie with his mouth. Terrific performance by Anand.
Vennela movie heroine Parvati melton and Karuna have performed dance for the megastar Apadbandhavudu song Aura ammaka chella.
6.45PM IST - Famous Mimicry Artist Ravikishan enthralled the audience with his mimicry by rendering the dialogues from Indra and Gharana Mogudu.
6.30PM IST – Anchor Suma and singer Raghu Kunche joined the anchoring team. Warangal Murthy Performed Mimicry and he sang a song (Malliswarivee..) from Yuvasena movie. He mimed and imitated R Narayana Murthy for Malliswarivee song and it got huge applause from the crowds. Later on Raghu Kunche sung Bhum bhum bole song from Indra.
6.23PM IST - Narayana Dance Group from Medli performing dance to some of the superhit songs of Mega family.
Suthimethani nadumu - Balu
Chamaku chamku cham – Kondaveeti donga
Andam hindolam – Yamudiki Mogudu
Chilaka kannulodee - Happy
6.10PM IST - Mr Guruswamy who usually a parody song singer sung Megastars Kodithe Kottali raa Six kottali in reverse order with the same rhythm and tempo and he has got wonderful response from the public. Famous Singer Gangadhar sung a song from unreleased movie 'Fans' and the lyric of the song goes like this 'Megastarayanamahaa'.
Allu Aravind came to the venue at 6.10PM
5.50PM IST - Srinivasa Raju dance group from Telangana composed two songs on Chiranjeevi and they are performing the same. They are eloquently using the dappu with their singing and dancing on a rhythm.
5.45PM IST - Children's from Shirdi Sai Vidyanikethan performed Gopika Krishna Nrityarupakam. Excellent work by children, unlike other megastar function, this function has a memorable cultural programs.
5.30PM IST - Dr Samaram presented Mementos to Students of Sunethra School for Blind followed by fine mimicry Programme by Nagabhushanam from Nirmal.
5.20PM IST - Students from Sunethra School for Blind at Pedda Amberpet came to Megastar Celebration as special invitees and they rendered Mahaganapathi song as part of the cultural activities. This song was highlight of the function and they got huge applause for their song.
Another highlight of the day was a group of the blind students from Sri Venkateswara University Tirupathi came to Megastar Chiranjeevi house today morning to wish Chiranjeevi and they have requested Chiranjeevi to give an autograph. Inspired by their love and affection Chiranjeevi asked the Children to wait for some time and he spend about one hour to learn the Braille Lipi and gave autograph in Braille. That is the love and care of Chiranjeevi towards the visually challenged people. Hats off to Megastar for your kind heartedness.
5.05PM IST - Cultural Programs were started at sharp 5.00PM and Megafan Mr Sreekanth is doing anchoring for the function. The Program officially took off with a Sri Ganapathi Slokam sung by Lakshmi.
4.50PM IST - Lalithakala Thoranam open air auditorium is jam packed with the enthusiastic Mega fans all over Andhra Pradesh. Remember this occasion is a feast for Mega fans all over globe as Chiranjeevi is celebrating his first birthday function after he receives the coveted Padmabhushan and more importantly it was full fun filled evening for Mega fans.
Except the first five rows where the celebrity seats auditorium are full and thousands of people are waiting out side the public gardens to have a glimpse of their matinee idol Megastar Chiranjeevi. The auditorium is noisy with crowd hungama. We have seen lots of people sitting on the neighboring walls and tress to see the proceedings.
. Chiranjeevi birthday coverage on idlebrain.com:
• Chiranjeevi birthday 2004
• Chiranjeevi birthday 2003
• Chiranjeevi birthday 2002