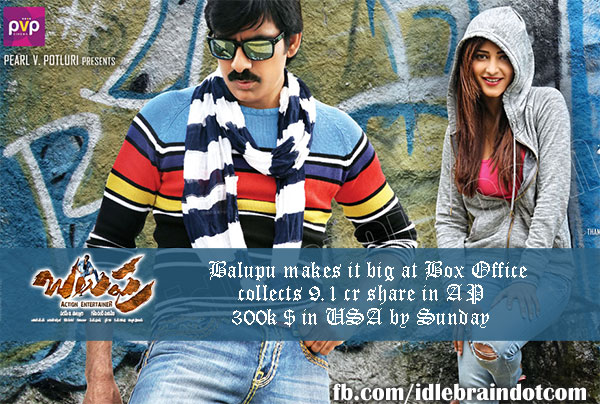 1 July 2013
Hyderabad
Ravi Teja whose last hit was Mirapakai which was released 2 and half years back has finally tasted success with Balupu again. He has 7 films in between which didn't do well at box office. Balupu is the first release by PVP banner that has complete involvement in pre-production, production and scripting. PVP's earlier movies were either take-over projects (Veedinthe) or tie-ups (Vishwaroopam and Avunu). Malineni Gopichand who looks a little like Ravi Teja has made his directorial debut with Don Seenu which was a runaway hit. He teamed up with Ravi Teja again to deliver another success in the form of Balupu.
9.31 crores share in AP in first 3 days
Producer PVP who is very confident about the success of the film has kept major portions of AP to himself and released it on his own. Satellite rights are also with him. He has not sold dubbing rights for other languages so far. However, he has outrighted the rest of AP territories. Balupu has collected a share of 9.31 crores in 3 days (Friday: 3.89 cr, Saturday: 2.6 cr and Sunday 2.8 cr) in AP. This is the highest opening for any of Ravi Teja's films.
290k USD in USA till Sunday
The movie was premiered on 27 June in only 9 screens in USA due to print delay and collected around 13k USD. However, positive mouth talk and good reviews guaranteed good collections from Friday. It has collected around 290K USD by Sunday (Friday: 86.3K USD. Saturday: 127.8K USD, Sunday: 62.6K USD). This collection is from reported screens only. If you include unreported screens, the total gross till Sunday should exceed 300k USD).
Incidentally, we had three hits from Ravi Teja in USA after Telugu film official box office tracking has started. Kick, Don Seenu and Mirapakai have collected a gross of 201K USD, 213K USD and 250K USD respectively in total run in USA. Balupu has crossed the Mirapakai total run by Sunday. With a long weekend ahead (American Independence Day on 4 July), Balupu is expected to do well in USA in the next couple of weeks.
GJG - Nitin to enter 20 crore club
GJG does well in USA
SVSC collections million dollars in USA by saturday
Top Telugu grossers in USA for 2012
Rebel 1st day share
Naan Ee collects 25 crores gross in Tamil Nadu
Sudigaadu crosses 100k USD in 3 days in USA
Julayi in 40 crore club
Eega trade report
Million dollar baby - Dookudu
100% Love collects 6.5 crore gross in 3 days in India
Mr. Perfect collects 12 crores gross in 3 days
Mirapakai 1st week gross in USA
Rakta Charitra 1 is a hit
Khaleja 3 days share in USA
Robo weekend in USA and 1st week in AP
Maryada Ramanna 1st week India report
Maryada Ramanna 1st week USA report
Vedam 1st week report
Arya 2 makes profit
Bendu Appa Rao RMP is a hit
Magadheera 100 days centers
Magadheera 5th week AP share
Magadheera 4th week AP share
Magadheera 3rd week AP share
Magadheera - a box office legend
Magadheera 2nd week AP share
Magadheera 1st week AP share
Magadheera to collect 60 crores share.