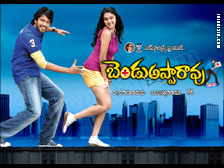 21 October 2009, Hyderabad
Bendu Appa Rao RMP was made on a reasonable budget of 3 crores and was released with 35 prints on 16 October all over AP. It generated instant hit talk. This movie is poised to collect 1.5 crores share in the first week and is expected to recover the cost in three weeks. The trade pundits are expecting this movie to collect a share of anywhere between 5 crores to 6 crores. This is in addition to more than 1.5 crores which expected through satellite rights.
Bendu Appa Rao RMP is the biggest grosser in the career of Allari Naresh. Incidentally, this is the first hit for Guinness-book record-holding producer D Rama Naidu in the past five years.
None of the films fared well at box office after the release of Magadheera film. Bendu Appa Rao turned out to be a sweet surprise as it amassed good mouth talk and good collections. Bendu Appa Rao RMP is the first hit in Telugu film industry after Magadheera. Bhaskar of Suresh Productions informed us that they are going to increase 20 more prints from 5 November as 23rd and 30th of this month sports release of big movies.

Magadheera 5th week AP share
Magadheera 4th week AP share
Magadheera 3rd week AP share
Magadheera - a box office legend
Magadheera 2nd week AP share
Magadheera 1st week AP share
Magadheera to collect 60 crores share