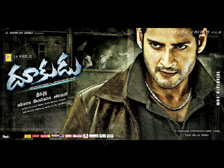 25September 2011,
Hyderabad
Mahesh Babu's latest film Dookudu has turnouted to be a heavy yet pleasant rain in scorching summer. Telugu people who have been deprived of a wholesome entertaining straight Telugu movie for the past few months are given an all-round entertainer in the form of Dookudu. Mahesh Babu's box office stamina and Seenu Vytla's entertainment brand worked for this film in an enormous proportion.
Dookudu has started off with positive talk all over and went onto become the highest opening grosser. If this trend continues in the coming weeks, the sky is the limit for this movie.
Mahesh Babu has made USA his undisputed bastion since the release of his film Athadu. This film has amazed everybody with becoming the biggest USA grosser among Telugu films. Pokiri film has set a standard for Telugu cinema collections in USA. Mahesh's last movie Khaleja too is a huge hit in overseas.
Dookudu is a million dollar baby in USA
Mahesh Babu's Dookudu has collected an unprecedented collections of 1 million dollars in USA alone by Saturday. All the shows were houseful. The exhibitors have shifted the film from small screens to bigger screens. They have also added extra shows in the mid night. Still, there is dearth of tickets for the movie lovers who are engrossed in Mahesh's mania.
Dookudu collects Rs. 1.5 crores in two days in UK, Australia, Dubai and Canada
Dookudu was released in UK, Australia, Dubai, Canada and Europe along with USA. In all other overseas centers, Dookudu created records and gave a fresh lease of life to Telugu films in certain overseas territories. Dookudu has collected a gross of one half crore rupees in the above mentioned countries together.
Rentrak Theatrical is a media measurement and analytical corporation that tracks the box office data in USA. Most of the theaters in which Telugu films released are tracked by Rentrak. Dookudu has collected 7,18,449 USD in the theaters tracked by rentrak. It has collected at around 300000 USD in premiere shows and the theaters not covered by rentrak.
The locations not covered by rentrak are LA, Sandiego, Minneapolis, Blooming ton,Peoria,St.Louis,Indianapolis, New Orleans,Entire Wisconsin, Eastwindsor (NJ), Delaware, Fremont (Saturday), Phoenix, Nashville, Louisville, Huntsville. The collections in these centers and the premiere numbers will add up to at least 300K USD.

100% Love collects 6.5 crore gross in 3 days in India
Mr. Perfect collects 12 crores gross in 3 days
Mirapakai 1st week gross in USA
Rakta Charitra 1 is a hit
Khaleja 3 days share in USA
Robo weekend in USA and 1st week in AP
Maryada Ramanna 1st week India report
Maryada Ramanna 1st week USA report
Vedam 1st week report
Arya 2 makes profit
Bendu Appa Rao RMP is a hit
Magadheera 100 days centers
Magadheera 5th week AP share
Magadheera 4th week AP share
Magadheera 3rd week AP share
Magadheera - a box office legend
Magadheera 2nd week AP share
Magadheera 1st week AP share
Magadheera to collect 60 crores share