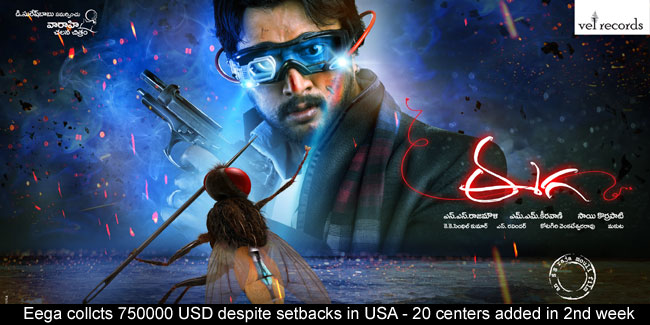 11 July 2012,
Hyderabad
Eega film is released with a lot of fanfare in USA and managed to gross around 725000 USD by Tuesday (10 July 2012). Eega managed to get such a humongous figure despite several setbacks. The prints didn't reach a few centers for premieres. Since it was a long weekend (US Independence Day), The Amazing Spiderman has occupied most of the screens in many centers and The Avengers is still going strong in USA. Hence Eega was not released in a a few potential stations like Philadelphia, Pittsburgh, Miami, Kansas City, Denver etc.
In places like Detroit which is a pretty good station for Telugu cinemas, Eega managed only one screen a day (all shows are full so far). Any big Telugu cinema has at least 3 shows a day in Detroit. For example, in a station like Sacramento Eega managed just one show in the first week of release. The collection of Eega in 1 show on Friday is more than all shows in 3 screens of Amazing Spiderman in the same theater. In Austin, Eega's collections are way higher than Amazing Spiderman in the first weekend (Eega had a very few shows compared to Amazing Spiderman).
Highest per screen average - 17000 USD
Since the Hollywood films are releasing in excess screens, screen averages of blockbuster Telugu films are way higher than Hollywood films. Hence Eega's screen average is much higher than that of Amazing Spiderman. It's only fair to compare Eega screen average with other Indian blockbusters in USA. The location average of Dabangg was 12664 for the first weekend. The location average for USA's Telugu biggest blockbuster Dookudu was 12444 for the first weekend. Eega's location average is around 17000.
20 centers added for second week
Arundhati film was released in USA a week after Indian release and did fantastic business. Taking a cue from it, the USA distributor is adding more prints and releasing in 20 unreleased centers. Five are these centers are big - Philadelphia, Pittsburgh, Miami, Kansas City, Denver and Jacksonville. These five centers are worth 75000 USD cumulatively.
Eega will release in 20 more centers in USA on 13 July and the number of shows will increased in centers like Detroit where Eega was not exploited due to unavailability of screens/shows. Eega is expected to continue the same momentum in the second week in USA as well.

Million dollar baby - Dookudu
100% Love collects 6.5 crore gross in 3 days in India
Mr. Perfect collects 12 crores gross in 3 days
Mirapakai 1st week gross in USA
Rakta Charitra 1 is a hit
Khaleja 3 days share in USA
Robo weekend in USA and 1st week in AP
Maryada Ramanna 1st week India report
Maryada Ramanna 1st week USA report
Vedam 1st week report
Arya 2 makes profit
Bendu Appa Rao RMP is a hit
Magadheera 100 days centers
Magadheera 5th week AP share
Magadheera 4th week AP share
Magadheera 3rd week AP share
Magadheera - a box office legend
Magadheera 2nd week AP share
Magadheera 1st week AP share
Magadheera to collect 60 crores share