Lorry Driver, Rowdy Inspector, Samarasimha Reddy and Narasimha Naidu - these four films talk much about the lethal combination of B Gopal and Balayya that smashed all the records at box office to pieces. We have the fifth film from this super combination in the next month, which is expected to be titled as Palnadu.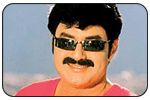 We have taken Krishna district as an example to illustrate the craze B Gopal - Balayya combination boasts of. Balayya's Seemasimham was bought for 70 lakhs for Krishna district and it could amass only 45 lakhs of share. Balayya's Chennakesava Reddy did a business of 60 lakhs. With this kind of history, Haritha film distributors - who hit gold by distributing Idiot film - are reportedly said to have paid an astonishing amount of 1.3 crores for B Gopal - Balayya film in the offing.
The unit of 'Palnadu' has previewed the 10 reels of the film shot so far and as per the insider's reports, this film has come out extremely well. The producer Medikonda Murali Krishna is reportedly said to have invested 16 crores so far in the production of the film. He cannot make any table profit for this film, because of the high budget. However, he retained a few areas for himself and sold the remaining areas in NRA basis, as he is confident that this film too would become an industry hit like Narasimha Naidu.
With Nijam and Johhny being hyped beyond the capacity, Balayya's Palnadu is turning out to be an underdog. It's going to be a definite advantage for the film.