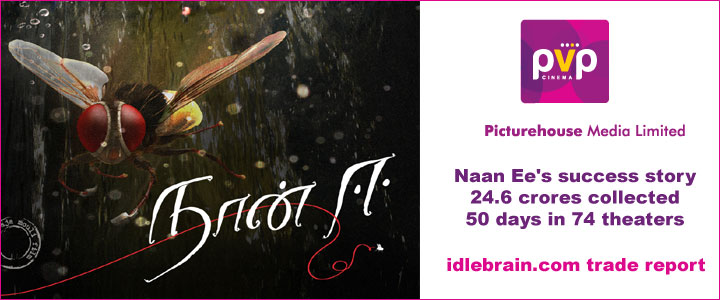 27 August 2012,
Hyderabad
Telugu base films - either dubbed or bilinguals are not encouraged in Tamilnadu. There could be many reasons for the same. However, concept films with strong story base are exceptions. One such last Telugu film that made ripples in Tamilnadu was Arundhati. Producer Shyam Prasad Reddy sold the dubbing rights of Arundhati for 5 crores and it collected as share of 6.5 crores. Since then we didn't have any hit Telugu-based film in Tamil.
Hence 5 crores became a standard price for highly anticipated concept film from Telugu in Tamil. SS Rajamouli's Eega was simulteniously made in Telugu and Tamil. The Tamil version had a few Tamil actors like Santhanam. Producer Sai Korrapati has sold Tamil version Naan Ee rights to 5 crores to PVP Cinema.
PVP Cinema is unlike other producers who mostly depend on future money (loans). PVP puts 100% equity and doesn't depend on loans. They promote the film agressively as well. PVP had spent around 4 crores to promote a 5 crore film Naan Ee. PVP had sold the satellite rights for 3.3 crores. When they tried to sell Naan Ee to the distributors, they were quoting low prices because the earlier highest grosser Arundhati had made only 6.5 crores of share. PVP had decided to release the movie on their own because they trust the vision and commercial orientation of Rajamouli.
Naan Ee was released in 208 theaters by PVP on their own. They tied up with reputed distributors on 10% commission basis. The entertainment tax for films made out of Tamilnadu is 30%. Naan Ee turned out to be the biggest hit among Telugu-based films in Tamilnadu and collected a massive gross of 24.6 crores till date. If you deduct taxes, commissions and other expenses, the producer's share came out to be around 9 crores.
Naan Ee has completed 50 days in 74 theaters. The exhibitors have taken out the film on Saturday in 5 theaters because of new releases. But duly added Naan Ee in the same screens from Monday onwards as Naan Ee is still garnering some share to the exhibitor.
The massive success of Naan Ee has opened doors to Telugu cinema in Tamilnadu. Most of the big projects and concept films in Telugu are being made as bilingual to capture Tamil market. PVP's aggressive promotion and long-term vision has made sure that the entire industry gets benefited by it.
Sudigaadu crosses 100k USD in 3 days in USA
Julayi in 40 crore club
Eega trade report
Million dollar baby - Dookudu
100% Love collects 6.5 crore gross in 3 days in India
Mr. Perfect collects 12 crores gross in 3 days
Mirapakai 1st week gross in USA
Rakta Charitra 1 is a hit
Khaleja 3 days share in USA
Robo weekend in USA and 1st week in AP
Maryada Ramanna 1st week India report
Maryada Ramanna 1st week USA report
Vedam 1st week report
Arya 2 makes profit
Bendu Appa Rao RMP is a hit
Magadheera 100 days centers
Magadheera 5th week AP share
Magadheera 4th week AP share
Magadheera 3rd week AP share
Magadheera - a box office legend
Magadheera 2nd week AP share
Magadheera 1st week AP share
Magadheera to collect 60 crores share