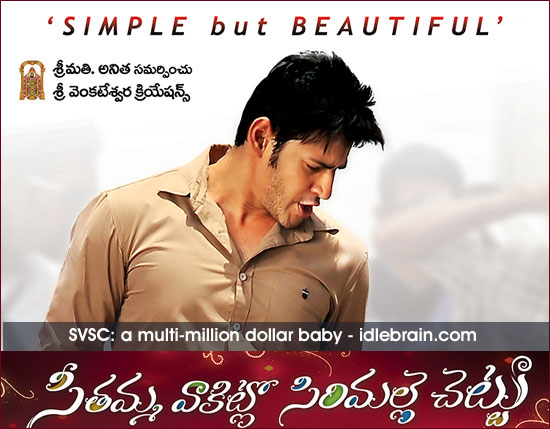 13 January 2013,
Hyderabad
Mahesh Babu has everything going for him. Looks, charm and unlimited talent. His debut film Raja Kumararudu was a runaway hit. His first biggest blockbuster came in the form of Okkadu. But the Telugu film market in USA was just evolving at that time. The USA Telugu film market evolution met the career path of Mahesh Babu during the time of Athadu. Being a stylish and suave action entertainer, Athadu made everybody go gung ho about it. Athadu was the first film that has shown the signs of Telugu cinema potential in USA. Mahesh Babu gave a thumping blockbuster after Athadu in the form of Pokiri. Pokiri is an universal hit when movie lovers from USA to downtrodden villages in AP loved equally well. Pokiri became the first blasting Telugu hit in overseas. Mahesh Babu took around 5 years to blast the US market again with Dookudu - which is another universal hit film regardless of class or mass. Dookudu turned out to be 1st Telugu film to cross 1 million USD gross in USA and attracted the attention of trade pundits nationwide.
After a gap of a film, Mahesh Babu is showing us again why he is called the king of USA Telugu market. He is crossing the benchmark set for himself by huge margin again. His latest film SVSC (Seetamma Vakitlo Sirimalle Chettu) has already crossed 1 million mark in just 3 days. This 1 million mark is achieved in 69 USA centers where collections are reported. There are around 18 unreported centers. In the unreported centers, the biggest pockets are LA and East windsor. SVSC has done 58k USD so far in LA and 40k USD so far in East Windor. If you include the unreported collections, SVSC total US gross so far is going to be 1.2 Million USD.
The earlier record was Mahesh Babu's Dookudu which has done a business of 1.56 Million USD in reported centers. SVSC is all set to cross 1.56 mil USD easily and will also cross 2 Million USD as per the early trends.
This phenomenally exceptional craze for Mahesh Babu coupled with the nature of film subject is the main reason for this crazy collection. Harish Sajja of FICUS has planned the release in a strategic way and is milking every single penny possible for a Mahesh Babu film. All the premieres were planned and executed with precision. They made sure that there are ample theaters and nobody turned around due to lack of ticket availability. The slightly increased premiere prices never bothered USA movie lovers.
SVSC is all set to become a multi-million dollar baby in USA. A Telugu film USA record is set straight by Mahesh Babu, yet again!
Top Telugu grossers in USA for 2012
Rebel 1st day share
Naan Ee collects 25 crores gross in Tamil Nadu
Sudigaadu crosses 100k USD in 3 days in USA
Julayi in 40 crore club
Eega trade report
Million dollar baby - Dookudu
100% Love collects 6.5 crore gross in 3 days in India
Mr. Perfect collects 12 crores gross in 3 days
Mirapakai 1st week gross in USA
Rakta Charitra 1 is a hit
Khaleja 3 days share in USA
Robo weekend in USA and 1st week in AP
Maryada Ramanna 1st week India report
Maryada Ramanna 1st week USA report
Vedam 1st week report
Arya 2 makes profit
Bendu Appa Rao RMP is a hit
Magadheera 100 days centers
Magadheera 5th week AP share
Magadheera 4th week AP share
Magadheera 3rd week AP share
Magadheera - a box office legend
Magadheera 2nd week AP share
Magadheera 1st week AP share
Magadheera to collect 60 crores share