Story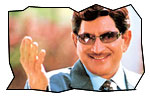 Justice Ram Prasad (Krishna) takes care of the kids of his deceased elder brother. Rajesh (Naveen) is a hot-blooded youngster. He comes to know that he has an elder sister born out of illegitimate relationship of his father. His father mentions it in his will, which is safe guarded by Ram Prasad now. Jyothy (Prema) is the one Rajesh and Ram Prasad looking out for. The story of the film is all about how Jyothy lets the Ram Prasad's family know that she is the one and how Rajesh and Ram Prasad together put an end to the atrocities of the JK (Mandadi Krishna Reddy) gang.

Artists Performance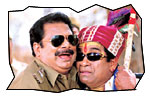 Krishna did well as the justice. He has a couple of scenes that rejoices his fans (the coffee scene). Naveen Vadde is adequate, but his voice modulation should have been smoother. Prema has got a pivotal character and she does justice. Ravi is redundant.Rathi is just meant for songs in this film and she is pretty hyper-active. Jhansi is apt for her role. Debutant Harsha is OK. The comedy episodes of Dharmavarapu Subramanyam and Brahmanandam fail to evoke laughter. The performance done by the actors for the roles of villains, collector and SP are very amateurish and irritating at times.
Technical Departments: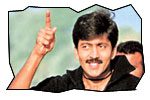 Story of the film is routine. Screenplay is bland. Direction leaves a lot to be desired. Narration of the film is old-fashioned. Dialogues by Ravi are too lengthy. Music by Vandemataram is below par though he copied old tunes like Qurbani Qurbani, Brindavnamadi Andaridi. Cinematography Kodi Lakshman is average. Fights by Kanal Kannan are routine. Editing is bad.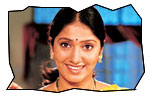 Analysis: First half of the film is bad. So is the second half. The quality of Kodi Rama Krishna's work is going down from film to film. The major drawback of the film is pathetic handling of script by the director. Only saving grace of this film is the performance of Krishna and Prema. You can safely avoid watching 'Ayodhya'.
Ayodhya Links
Muhurat
Audio function
Photo Gallery
Jeevi reviews of previous 5 films
Mumbai Express
Chandramukhi
Avunanna Kadanna
Bunny
Andagadu
More Reviews