Story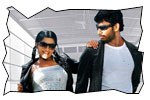 Jagan (Vishal) is a hot-blooded youngster who often resorts to arm-twisting methods with others. He falls in love with Malathi (Priyamani). She tries to avoid him by claiming that a goon (Guna) is her lover. And then Guna starts following her and harassing her. The rest of the story of all about how Jagan takes care of Malathi and the goons in the city.
Artists Performance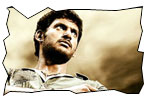 Vishal: Vishal is very good in the lead role. In addition to his mass characterization, there is a bit of comedy orientation for which he has done complete justice. He is pretty good at fights department. However, he needs to become more fluent with Telugu while rendering his voice.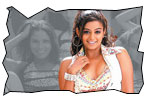 Others: Priyamani is adequate. She did the role of a girl harassed who is rescued by the hero. Asish Vidyardhi steals the show with his positive character with comic outlook. Ajay did a terrific performance as the bad guy, but his role becomes dummy in the second half. Devraj is alright as the villain. Ponnabalam is humorous as Kukkala Bhaskar. Jaya Prakash Reddy's dubbing helped his character getting noticed.
Technical Departments: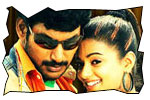 Story - screenplay - direction: Story of the film is routine. But the director Bhupati Pandyan seems to be an expert at inserting commercial elements. Though most of the commercial gimmicks were played in earlier films, he used them again to get good response from the masses. I particularly liked the way he inserted a flashback for Asish Vidyardhi and Urvasi in an Eastman color and 35 mm format. That episode is very much resembles the creativity of Woody Allen. The way he shows flight to denote villain going out of and coming into the city is good. Screenplay of the film is adequate.
Other departments: Music by Mani Sharma is mediocre. Cinematography is fair. They used special camera to shoot action sequences. Dialogues are alright. Production values are good.
Analysis: First half of the film is adequate. The second half has got lot of action sequences and violence. The plus points of the film are entertainment (aimed at masses) and action sequences. On the flipside, there is lot of violence in the film and Tamil nativity could be a problem too. This film is definitely not for the class audiences. But has the potential to do well with the masses.
Bhayya links
• Photo Gallery
• Wallpapers
• Trailers
Jeevi reviews of previous 5 films
• Chirutha
• Happy Days
• Chandamama
• Raghavan
• Yamadonga
• SDZ
More Reviews