Story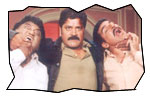 SP Yugandhar (Srihari) is an encounter special who gets transferred very frequently due to his honest attempts to curb the crime. Home Minister appointed SP Yugandhar to Seema region to tackle Subbarayudu (Mukesh Rushi) and his son Chinnappa (Bharat) who have been running a parallel government. The rest of the story is all about how sets everything right.
Artists Performance
Srihari: Srihari is terrific and dominated the role of SP Yugandhar in his own indomitable style. His characterization is the most stylish among the films in which Srihari acted as solo hero. He underplayed his character at times and never went over-board. He wore casual wear most of the times than cop's uniform.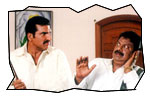 Others: Santoshini is adequate as the supporting wife. Mukesh Rukhi enacted the routine role of Seema's bad guy which he has been doing over half a decade. Bharat (younger brother of Ravi Teja) donned the role of a maverick guy. Though appears different, he went overboard most of the times. LB Sriram has got a very important character in this film for which he has done justice. The 'Abbe' mannerism by Dharmavarapu Subramanyam hit well with the masses. Sivaji Raja is competent. Naga Babu and Jaya Prakash Reddy are appropriate. Abhinayasri performed for the only song in this film.

Technical Departments: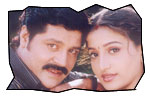 Story - screenplay - direction: Story of the film is routine. Screenplay is adequate though gone flat in the second half. Direction suits the requirement of story. Telugu film directors have been showing Rayalaseema in a very bad light and this film is no exception. It is quite ironical for SP Yugandhar to preach the fellow cops to follow procedures in stead of killing the villains, when he encountered so many people in the past without giving them a chance to go for a trail.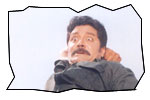 Other departments: A couple of fights composed by Horseman Babu are good. Back ground music by Vandemataram is nice. He used metal/rock guitar for the background music for Sri Hari's appearances. Cinematography by Adusumalli Vijay Kumar is neat. Dialogues written by Veligonda Srinivas are an asset. Here is the punch dialogue of Srihari - 'naaku rende telusu. Okati Telugulo tegesi cheppadam. Rendu English lo encounter cheyyadam'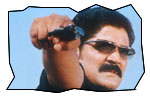 Analysis: First half of the film is engaging enough. Second half's tempo goes down a bit. The climax should have been better. The plus points of the film are Srihari's performance, dialogues and mass elements. The negative aspects are routine storyline and unimpressive climax. On a whole, Okkade makes an average flick for a normal movie lover and a satisfactory one for the masses who enjoy Srihari's action flicks.
Okkade Links
Photo Gallery
Press Meet
Title announcement
Jeevi reviews of previous 5 films
Muddula Koduku
123 from Amalapuram
Please Naaku Pellaindi
Adirindayya Chandram
Andhrudu
More Reviews