Story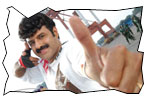 Murali (Bala Krishna) is a caring brother of a physically handicapped sister who studies in Hyderabad. Peddiraju (Sayaji Shinde) – nemesis of Murali – is biding his time in jail as his men search for Murali to assassinate him. The main story of the film is all about why there is enmity between Murali and Peddiraju and how they settle the scores.
Artists Performance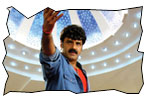 Bala Krishna: Bala Krishna changed his body language and tried to do casual acting compared to his earlier films. You can see his trademark ferocity and dialogue delivery only in scenes where it is absolutely necessary. His comedy as innocent man in romantic thread with Tanu Sri Dutta is good. His performance as a man longing for love from family members is excellent. Bala Krishna changed his dancing style too. He tried certain variety steps in casual style for 'Jujibi' song which got tremendous response in theaters.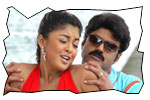 Heroines: Sada did the role of mass masala girl who troubles the hero at every opportunity she gets. Her character in this film is in contrast with her type of homely girl roles. Tanu Sri Dutta is neat as the main heroine. She is a treat to watch in songs with scant cloths. Both heroines got two duets each with Bala Krishna.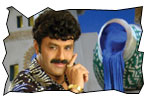 Others: Sayaji Shinde is good as the main villain. Prakash Raj has done the role of a crooked father. The girl who acted as Bala Krishna's sister is pretty good in histrionics and looks. Rajan P Dev is fair in a vital role. Upcoming artist Ajay has got considerable footage in this film. The comedy gang of Brahmnandam, Kovai Sarala and Venu Madhav are ok in first half. MS Narayana is entertaining as the sidekick of the villain.
Technical Departments: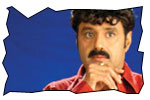 Story - screenplay - Direction: The story of the film is pretty big with sister sentiment incorporated throughout. AS Ravi Kumar Chowdary's direction is OK. Screenplay should have been better. The director tried to stuff in the entire story in the second half instead of distributing it. Director succeeded in creating humor in scenes where hero personally admit the baddies he bashed up in hospital and tries to woo heroine by trying special appearance and walking style.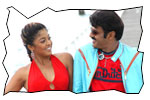 Other departments: Marudhuri Raja has come up some powerful dialogues and sensible sentiment dialogues. A few dialogues that refer to Bala Krishna as future CM got tremendous applause from the crowds. Music by Mani Sharma is good with three songs (Jujubi, Janam Kosam & Ababba) picturized pretty well on screen. Stunts of the film are alright. Cinematography by Ram Prasad is good.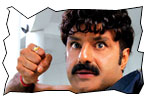 Analysis: First half of the film is satisfactory with entertainment. The second half is stuffed with lot of story. The director exploited the sentiment aspect of the film a lot in second half. This film will cater to the main strength of Bala Krishna, that is masses! Veerabhadra will have better appeal in B and C centers.
Veerabhadra links
Photo Gallery
Working stills
Audio launch
Muhurat
Press Meet 1
Press Meet 2
Trailers
Schedules
USA | UK & Aus
Jeevi reviews of previous 5 films
Veerabhadra
Pournami
Sri Ramadasu
Rajababu
Asadhyudu
More Reviews