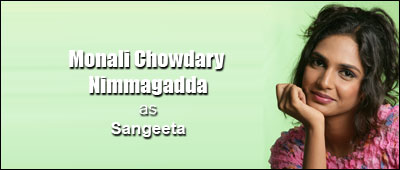 Background:
I am born and brought up in Hyderabad. I am a graduate in Architecture from JNTU. In my final semester my friends sent my pictures to Big FM and I got a call for an audition.
Is Monali your real name?
No. My real name is Madhu Chowdary Nimmagadda. But there are too many heroines with Madhu name. Hence my mother screen-named me as Monali.
Your character in this film?
I am doing the role of Sangeeta who is very rich and shows lot of attitude. This character is close to my real life.
Favorite actors:
Nagarjuna, Siddhardh, Saif Ali Khan, Ajay Devgan, Tabu & Shabana Azmi
Favorite films:
Anand, Aithe, AOR, Grahanam, Gangster, Rain Coat, Cheeni Kum and Metro.
Hobbies:
Painting and writing. I was the editor in chief for my college magazine. I love designing too.
How is the encouragement from your parents?
They encouraged me a lot because I like acting and dancing. The reputation of Sekhar Kammula as clean moviemaker helped me in convincing my parents.
You have an encouraging career of an architect. Why do you want to do films?
I don't differentiate between architecture and acting. Both these professions are forms of expressions. For architecture you need mind and for acting you need both mind and body..