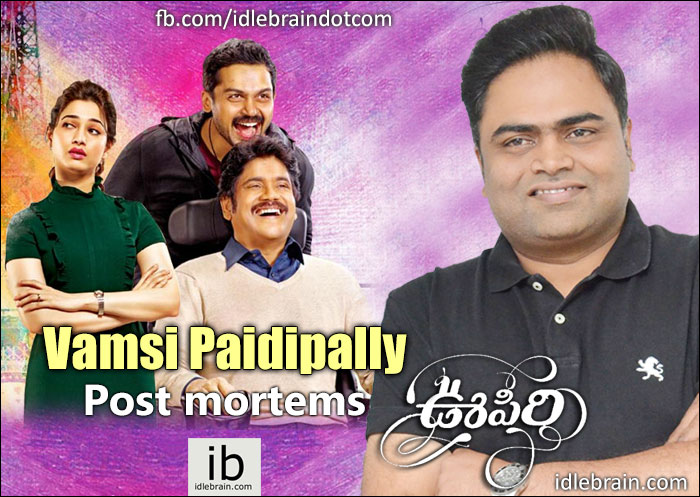 What is this post mortem?
Idlebrain.com is starting this exclusive, explosive and exciting section called Postmortem, where we conduct a postmortem of the latest releases. We shall be discussing and analyzing the strengths and weaknesses of the movies with their respective directors as to why those films have become hits/flops. We request the directors to give us their honest and frank opinions.
13 May 2016
Hyderabad
Vamshi Paidipally is essentially known as a commercial director. But, Vamshi aspired to be more than just a commercial director and took the risk of his life to remake The Intouchable. The resounding success of Oopiri transformed his image as a director of elite league. Here is our post-mortem on Oopiri film with Vamshi Paidipally -
Genesis of Oopiri:
My wife's brother gave me the DVD of 'The Intouchbles' when I was shooting for Yevadu film. The DVD cover looked like a sad film and I kept it aside as I was in no mood to watch such a morbid film. Later, I watched it reluctantly and ended up liking it. That film stayed with me for a long. I had a gap when Yevadu release date was announced during Attarintiki Daredi release time and then postponed by 6 months due to various complications. I watched it again during that gap. That's when it occurred to me that it can be remade in Telugu.
I had a commitment with with PVP and he gave me an instant godhead. I approached Tarak to ask for the character of Seenu. He was excited and has pushed me to do this project. I have a great bonding with Tarak. He is the one who trusted me with Brindavanam when I delivered Munna as my debut film. When the script was ready, he had a different look/get-up for Nannaku Prematho and it will not be possible for him to do two films at a time as we needed a different look for Oopiri.
The only choice for the character of Vikramaditya was Nagarjuna. That's when me and PVP went to Nagarjuna with Oopiri script. He had already seen The Intouchables. He has asked me to narrate the adaptation.
The Indian remake rights were already bought by Karan Johar. PVP has immediately procured Telugu/Tamil rights from him. When I narrated the adapted version, Nagarjuna has asked me to be more realistic. He said that it needs courage to ask him to do a wheelchair-bound character and asked me to apply the same conviction while adapting it to make the script more sensible and realistic. His words of assurance gave me immense confidence. PVP also have such a confidence in me and asked me to push the envelope.
While doing the adaptation, it was a tough task to arrive at interval point. The Intouchables is all about Driss helping Philippe. I have decided to make it in such a way that they help each other out. That's why I have developed back story for Sreenu character. Brother, sister and mother of Seenu don't like him in the beginning of the movie. In the end, they love Seenu. Just like the way Seenu provides peace and calmness to the restlessness of Vikramaditya, Vikramaditya pays him back by asking him to go to mother, face consequences and solve the problems. We have also made sure that there is always a humour scene that follows a sentimental/heavy scene. When I narrated the revised second half, Nagarjuna was thoroughly impressed.
When NTR had dropped out of the project, it was very difficult to get a replacement. When we approached Karthi, he has met us out of respect towards PVP. He was little unsure about how The Intouchables work in South India. He was mightily surprised when I narrated him the adapted version. After Karthi joined the bandwagon, PVP has decided to make it a Telugu/Tamil project. Karthi helped me a lot during shoot with the Tamil version. He used to take personal care and made sure that Tamil version was also shot with authenticity. I am born and brought up in Hyderabad and doesn't understand much of Tamil. Each dialogue of the film is shot separately for Tamil and Telugu. Dialogue writer Raja Murugan also helped us regarding Tamil version. It's Karthi who made me a Tamil director.
This project would never have happened if Nagarjuna hasn't agreed to do this film. Nagarjuna has taken this decision before the release of Manam film. Acceptance for different subjects in Telugu was low at that point of time. After the release of Manam, Bahubali ad Sreemanthudu, everybody realised that different films work big time in Telugu. He is such a visionary. Nagarjuna has a certain way of doing his things. But for Oopiri, he came out of his comfort zone.
The writing work was started in March 2014 and we finished 1st version by June. The final version was ready by August 2014. We have shot the both versions in just 112 days which is very less for a big budget multilingual film. We were all like strangers embarking on an adventurous trip and returning as close buddies at the end of it.
House of Vikramaditya:
When we were searching for a uber rich house, it was PVP who suggested the house of Megha Krishna Reddy. We used the exteriors of his house. The cars (Rolls Royce and Bentley) belongs to K Raghu Ramakrishnam Raju (Ind Bharat). All the interiors are sets except for a couple. The waiting hall for interview is shot in Hotel Taj Krishna. The location of scene where Karthi meets Kalpana for the first time also belongs to Taj Krishna.

We shot the movie in Europe (mostly in Paris) extensively. It was a strenuous exercise working away from home. I use to get low at times. Nagarjuna and karthi used to cheer me up. Nagarjuna told me that his dad collapsed in front of his eyes during the shoot of Manam. He asked me to be brave and go ahead with work.
I have personal connect with the philosophy of the film. 'Bhayam Vunna Chota Prema Vuntundi' and 'Manishi Vellina Prati Chotiki Manasu Velladu' are taken from my own way of living.
Improvisations on sets:
1. Ali's court steps scene where an old man shivers and following Ali's response when he gets a call from Seenu.
2. Rolls Royce logo retreating when Karthi touches it.
3. Tamanna showing sandal sandal to Karthi in Diesel showroom
4. Most of shots in Okka life song
Shooting race episode in Paris
We had to take permission 4 months prior to the shoot. We shot it in summer. It used to get dark at 10 pm and sun rises at 4 am. We had short period of time to shoot the race episode. It's the most crucial scene of the film where Vikramaditya who has passion for races and adventurous sports rediscovers himself.
Importance of Paris episode
Vikramaditya visits Paris for the first time after his accident. He gets low on first day as he couldn't see the peak of Eiffel tower. Once he wins the race, he opens the sunshade to see the Eiffel tower's peak in full glow. It's about rediscovering himself. This episode is also explains about moving on with life. Vikramaditya suggests his ex-love to move on. We gave a closure to his love flashback with Anushka episode. It's a beautiful one. Some people are thinking that Gabriella episode is unnecessary. But, it was used to spark love in Tamanna towards Karthi.
A few interesting points:
1. We have shown Nagarjuna looking at a fluttering bird unable to fly in the beginning. We have shown the bird flying after Anushka meets him in Paris.
2. Karthi is a great communicator, but gets stuck when it comes to relationships. The story transforms him from a rough paper to a painting.
3. We initially had a 10 page dialogues for the climax. But we thought it would become preachy and toned down it to five important lines. All the dialogues after Anushka's appearance were crisp and to the point to make sure that audiences wouldn't find the film verbose.
4. There is no dialogue between Karthi and Jayasudha in second half. It was all through expressions.
Special mention about Jayasudha:
Jayasudha is the only choice for such kinds of roles in Telugu. She has a role that is very critical to the story. My friends told me that they had lump in throat watching Jayasudha performance.
Compliments Galore:
Tweets of Rajamouli and Ram Gopal Varma gave us high. K Raghavendra Rao called me and wondered how we pull it off. VV Vinayak, Harish Shankar, Dasaradh and Gopichand Malineni complimented me. We don't find that competition among our peer group of directors as we realise that each one of us have different core strengths. Jayant C Paranji - my guru told me after theatrical trailer that I have a talent to show emotions.
Tell us about your family's reaction?
My oopiri is my family. Ours is a joint family and 4 generations of us live under the same roof. I am thankful for my father's efforts for sending me to best of schools though I was not a distinction student. I have done my schooling in Hyderabad Public School and junior college in LFJC. I did my engineering in Bhadruka. Education has really helped me.
Nagarjuna and Amala watched Oopiri a couple days ahead of release. Nagarjuna called my mother and wife and told them that Oopiri will make them feel proud of me. It was such a sweet and genuine gesture of Nagarjuna. They are very happy about Oopiri.
Can we expect such different films in the future instead of commercial potboilers?
I want to make it clear that I am extremely proud of all my films including Munna. Just because I made Oopiri, It doesn't mean that other films are inferior. I want to do good, yet commercially sustainable films in the future. My debut film Munna taught me a lesson. I used to be over confident during the shoot of Munna. The result has made me fall on the ground. Since then, I was grounded in whatever I did!
Oopiri was a huge gamble in my career. It would have been an irrecoverable blow if Oopiri fails. Producers and heroes would keep me away if it fails. I had seen successes in the past. But, with Oopiri I had received respect. I followed my heart and did Oopiri. We have to be where the heart is. Getting both critical acclaim and box office collections is a rare phenomenon. I am happy that Oopiri managed it.
Next movie:
I want to make a better movie than Oopiri. I have a couple of interesting story ideas.