Cast: Govinda, Raveena Tandon, Kader Khan
Director: Harmesh Malhotra
Music: Anand - Milind
Review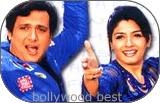 That time is never a faithful ally, Harmesh Malhotra would have discovered already in his ling career. He once gave us Nagina, which established Sridevi as Bollywood's empress, only to follow it up with Nigahen, a kind of sequel, which was rejected like a stale potato by the audiences. He once came up with Dulhe Raja only to get embroiled with Paapi Devata. Here now he has a fresh date with reality. After his last film with Govinda, Raveena Tandon and Kader Khan clicked at the box office, his attempts to capitalize on the audiences' preference for a cinema with zing come unstuck with Akhiyon Se Goli Mare, a film as inane, as obsolete as its name. If Dulhe Raja sent him laughing all the way to the bank, this one is a bad debt; it enriches neither the giver nor the recipient.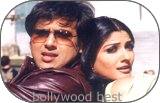 This tale of a boy and girl falling in love with situational hazards of missed dates is supposed to be a comedy, meant to tickle those who do not keep their bar of satiation very high. Actually it is a crass production, low on aesthetics, lower on ethics. That Govinda has lost his touch was apparent with Pyar Diwana Hota Hai, he gives irrefutable evidence in Akhiyon… And it is hard to recognize Raveena Tandon here. Is she the same girl who walked away with the National Award last year? Or some poor alter ego masquerading as the origianal? This is no versatility if she signed the film to prove that she could do Agni Varsha and Akhiyon… to prove that but sheer vulgarity. Her dances are suggestive, her body language crude.
If despite all this the film manages to evoke a few laughs from the frontbenchers, it only goes to show depths, which the lowest common denominator has fallen to in Hindi films. Watching this film amounts to endorsement of lumpenisation of Cinema. Avoid being a party.