The year - 1998. All the eyes of bollywood set on a young director's maiden venture. All the hopes pinned on his magnum opus. Coming from the incurably romantic Yash Chopra's school of direction, everybody was eager to see if this new entrant's movie would rewrite history as Dilwale Dulhania Le Jayenge (DDLJ) did. Having not only assisted Aditya Chopra with DDLJ but also playing a bit role as Shah Rukh's friend, Karan Johar convinced both the lead stars of DDLJ, Shah Rukh Khan (SRK) and Kajol to breathe life into his friendship 'n' love saga - Kuch Kuch Hota Hain (KKHH). KKHH not only rewrote box-office history but also went on to become one of the highest grossers of Hindi film industry.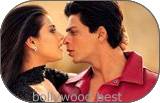 The year - 2001. All the films released after the highly successful Lagaan and Gadar, started falling like ninepins. The industry again looks upto Karan's second mammoth offering with a never before and probably never again star cast bringing in six superstars of the industry together on screen. As expected, Kabhi Khushi Kabhie Gham (K3G) brought in leaps and bounds of khushi. Though people complained that K3G could have been much better if Karan had channeled an iota of his perfection on the glitz of the movie to the script of the movie, such gham filled complaints were lost in the razzmatazz of khushi generated by K3G.
KKHH was more a love story and K3G a family oriented movie. Though both the movies have a lot of common technicians and actors, there are a lot of other similarities between the two like -
Both the movies run into flashbacks within 15 minutes of their beginning.


Both the flashbacks start with a song. 'Hai hai re hai, yeh ladka...' in KKHH and the title song in K3G.


Kajol parts from the main characters in the flashbacks in both the movies. In KKHH she parts from SRK and in K3G, she along with SRK parts from Amitabh Bachchan and Jaya Bachchan.


All the characters narrating/reading/listening to the flashback burst into tears at the end of the flashback. Baby Sana Saeed in KKHH and Hrithik Roshan, Achla Sachdev, Sushma Seth in K3G.


The character of Rani Mukherjee is primarily limited to flashbacks in both the movies. Though she makes some ghostly appearances in the second half of KKHH she shines in two songs in the flashback of K3G.


The entire second half in both the movies is about a single character, with some assistance from other characters, trying to unite the main characters that have parted ways in the first half. Baby Sana Saeed, assisted by Farida Jalaal in KKHH and Hrithik Roshan assisted by Kareena Kapoor in K3G.


This single character, in trying to unite the parted chracters goes to the place of the parted character(s) lying to the other parted main character(s). In KKHH, Sana Saeed heads to a summer camp in Simla managed by Kajol, lying to SRK that she wants to learn 'singing and dancing'. Hirthik, cooks up an MBA story to Amitabh and Jaya in K3G to find place in the residence of SRK and Kajol in London.


SRK lights a pyre in both the movies. Rani Mukherjee's pyre in KKHH and that of Achla Sachdev's (his grand mom) in K3G.


The rendition of 'Om Jai Jagdish hare…' song. Rani Mukherjee recites this arthi chanting in KKHH and Hrithik Roshan and Kareena Kapoor do the reciting in K3G. At the end of this song SRK is found with open-mouth in both the movies, awed by the 'bharateeya traditions' of London bred Rani in KKHH and Kareena's transformation from a skimpy skirt clad chic to chudidaar clad nymph.


The presence of Muslim characters and their association with Kajol. Himani Shivpuri, played the role of Rifatbi, Kajol's caretaker at hostel in KKHH and Farida Jalaal and Simone Singh were the muslim neighbors of Kajol in K3G.


Presence of a desh-bhakti song. If Mahatma Gandhi's 'Raghupati raghava rajaram' was set to a modern tune in KKHH, Bamkim Chandra's 'Vandemataram' was tuned to a high voltage beat in K3G. Not only that, Karan has also included Indian National Anthem 'Jana gana mana' in K3G. Now, that's an overdose of desh-bhakti probably aimed at NRIs.


The Punjabi kid (Parzun Dastur) repeats his famous and hilarious KKHH act of counting stars in K3G too.


Lastly, apart from the starting letter of both the movies being 'K' (Karan Johar has a similar sentiment like Rakesh Roshan and probably Hrithik Roshan 'coz his genuine hits so far are Kaho Naa Pyar Hain and K3G and both begin with 'K'), SRK's and Kajol's characters in K3G are named the same as in KKHH - Rahul and Anjali.
KKHH and K3G share one more commonality - their success saga at the box-office. Both the movies are inarguably one of the top grossers in their year of release. In spite of so many similarities, both KKHH and K3G showcase the wonderful directorial talents of Karan Johar and his command over handling sensitive family/love stories.
Tell Sreya How you liked this article
Other Analysis:
Other Articles by Sreya: