Cast: Amitab Bachchan, Sharukh Khan, Hrithik Roshan, Jaya Bachchan, Kajol & Kareena Kapoor
Director: Karan Johar
Music: Jatin - Lalit, Sandesh Shandilya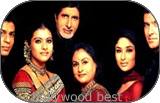 If a director like Karan Johar is involved in the production, then, the movie has to be about relationships. Not just that, though. The film will also have loads of sentiment, soft romance, good music, lots of characters and professionalism in all departments. That exactly is what one can expect from his latest venture, Kabhi Kushi Kabhie Gham.
A well-coordinated movie, with a touch of finesse in all sections, K3G does not disappoint the viewers who have been waiting with a lot of expectations. Its catch-line 'It's all about loving parents' says it all - about the theme, plot, development, scope for emotions and performance.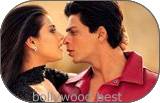 The movie is about Raichands, a Delhi based business family. Rahul, the adopted son of Yash and Nandini, Rohan aka Laddu/Motu, their youngest son, Yash's mother, and DJ (for Dayijaan), for woman who looks after the children, are all part of this well-to-do family which owns choppers and luxurious palace for a house. Trouble seems to be lurking in the corner to torment the family members. Enters Anjali Sharma, a middle class shop owner from Chandni Chowk, to take Rahul's heart away with her innocent attitude and talkative nature. The rift created in Raichand's family with her entry as bahu much against wishes of Yash who considers his family name and tradition above everything and everyone.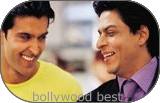 For Yash, everything has to be according to Parampara - his children has to study in boarding schools and get married to the girls of his choice as has been the family tradition. Yash, in fact chooses Naina, Rahil's childhood friend, as the to be bahu of the family. But the destiny has it otherwise. It's Rohan's turn, now a grown-up adult, to bring the family together again. He sets off, on his mission, to London where Rahul has created a small world of his own. In his attempts, Pooja aka Poo, the vain and fashion-conscious sister of Anjali, helps Rohan, and loses her heart to him in the process. The rest of the film is about Rohan's attempts to unite the family.
Affluent lifestyle, lavish sets, trendy youngsters - name it and the movie has it all. But what glues the viewers to their seats is the emotional vein that flows throughout the film holding it tightly together.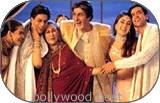 About Amitab Bachchan who plays Yash Raichand, whatever said will be less. He just lives the character with his wonderful performance. Jaya Bachchan plays Nandini whose special bond with her sons, especially Rahul, is highlighted well with her acting prowess. Among the younger lot, Shahrukh and Kajol come out as better actors as Rahul and Anjali. Hrithik and Kareen, as Rohan and Puja, represents today's hip generation in the right spirit. Rani Mukharjee as Naina has a brief guest role. Farida Jalal (as Dayijaan), Alok Nath, Johny Lever, Achla Sachdev, Sushma Seth, Shashikala and Himani Shivpuri perform well in their brief roles.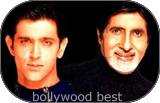 Music is the highlight of the film and credit must be given to Jatin-Lalit and Sandesh Shandilya. Sameer's lyrics add color to the lively music and dance sequences. The dialogues, which alternate between the comical and emotional strains, touch you. An enjoyable film worth watching, it manages to give you the best of everything, acting, music, choreography and (though no-so-novel) theme.
Courtesy: The Hindu