Cast: Jackie Shroff, Nagarjuna, Prabhu Devaa, Milind Soman, Raveena Tandon, Sonali Kulkarni, Mohan Agashe, Amitabh Bachchan in a special appearance.
Director: Arjun Sajnani
Producer: I Dreams
Music: Sandesh Shandilya
Story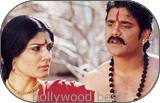 In order to please Indra for rains in a drought hit kingdom, Paravasu, the chief priest performs a mythical yagna, which is a seven-year ritual. He forbids all his wordly pleasures including his wife Visakha(Raveena Tandon). Yavakri (Nagarjuna) loves Visakha before her marriage. But in his quest for Brahma gyana he leaves Visakha to practice austerities in the jungle. After 10 years of meditation he feels that he attained Brahma gyana and returns back to find that Visakha married Paravasu. The encounter of Yavakri with Lord Indra and Yavakri's thoughs on attaining Brahma gyana are inquisitive. Visakha being abandoned by her husband is in a vulnerable position and succumbs to Yuvakri. Visakha's father-in-law, Rishi Raibhya (Mohan Agashe) comes to know about this, Rishi Raibhya follows Yavakri to seek his own vengeance, which leads to irrecoverable actions.
Paravasu's younger brother, Aravasu (Milind Soman), loves a tribal girl Nittilai (Sonali Kulkarni) and has a passion for theatre, neither of which endears him to his Brahmin family. He becomes a victim of Rishi Raibhya and Paravasu's deeds.
Artists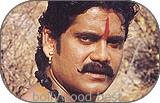 Director Arjun adapts Girish Karnad's play, which is derived from the Mahabharat. It wonderfully blends all the elements - power, love, sacrifice, jealous and betrayal. It is shot in the 13th century ruins of humpi, which gave a natural look to the movie. Cinematographer Anil Mehta, art director Shashi Adappa and Sajnani create a stunning backdrop, which takes the viewer to a different era.
All the actors performed well. Even though Amitabh is in a guest role he makes his mark on the movie. The movie takes the audience by a spell from the beginning to end.

Analyis:
Yet another movie on drought and rain after Lagaan and Indra(Telugu) this movie is on a different note. Visakha shows how an emotionally vulnerable person goes through turmoil of emotions because of love. Rishi Raibhya and Paravasu show how greed for power leads to destruction. Yuvakri shows how revenge succumbs ones own life. Aravasu shows how people can take advantage over a good-hearted person. While Nittilai shows how love with compassion leads to selflessness. Thus, a wonderful blend of all emotions this film is certainly worth viewing.