Cast: Hrithik Roshan, Amisha Patel
Director: Vikram Bhatt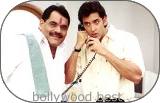 After Kaho Na Pyaar Hai, Aap Mujhe Achche Lagne Lage? Well, yes! And what after Aap Mujhe Achche Lagne Lage? This second coming of Hrithik Roshan and Amisha Patel is no patch on the first offering. The Rakesh Roshan film had a lilt about it that breathed new life into the film. Whenever the narrative slackened which was seldom - Rajesh Roshan's music came to the rescue. Not so this time.
Try as Hirthik, Amisha and Rajesh Roshan might, they fall short. After all, there is nothing quite like the first time. The first bite, the first crush, the first experience Anything else, anything later, can at best be just an encore, lacking in joy of unpredictabilities, the joy of the unseen.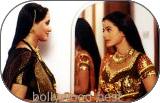 If in Kaho Na… both Hirthik and Amisha had the advantage of starting with a clean slate, they do not have the comforting cushion to fall back now. Since Kaho Na… the career graph of both the leading artistes has taken a nosedive. If Hrithik has played a second fiddle in films like Fiza, Misson Kashmir and Kabhi Khushi Kabhie Gham - this is actually his first major film as a solo hero - Amisha has done worse.
Despite scoring with Gadar, she has not only failed to deliver in subsequent films but has also been guilty of singing some nondescript films. This is another, though the lead pair may have just signed on in an attempt to recreate magic of yore. It deserts them.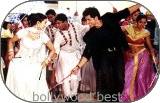 As the name suggests, it is a love story. The age-old story of a handsome boy meeting a pretty girl, the boy falling in love with the girl, the girl taking time in deciding, then acquiescing, the parents refusing… we all have seen it often enough. What usually distinguishes these movies is the unusual treatment meted out by the director. And the music support he gets. This film is lacking in both.
Director Vikram Bhatt seems to have directed this flick with his heart on other pet projects. Like many others, he seems too keen to make use of Hrithik's famous dance prowess. And Roshan seems to reserve his best only for family ventures. Which is a pity considering so much hinges on this film for Hrithik and Amisha.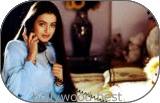 Not that Aap Mujhe… will not be liked by anybody. It will be, particularly by those who are willing to overlook its frailties and are not forever linking up the past and the present. The film has its moments but they do not add up too much. Watch it if you must for a very young-looking Hirthik - the film was long in the making - and a not-so-fresh Amisha whose famous dimple appears only fleetingly.
What lives with the cinegoers are some really jaded shots.
Courtesy: The Hindu