Cast: Amitabh Bachchan, Arjun Rampal, Akshay Kumar, Paresh Rawal, Sushmita Sen & Bipasha Basu
Director: Vipul Shah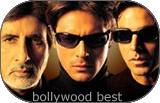 It is an exhilarating affair. If not all the way, at least part of the way. And the way it begins, it promises great things, but then, as Amitabh Bachchan himself says in the movie, promises are meant to be broken. This one is too. But it is also partly fulfilled. And in that part lies the whole joy of Aankhen, debutant director Vipul Shah's fast-paced suspense drama, often hilarious, occasionally blundering, but almost always keeping you engaged. Its failure lies in not utilizing its unusual premise of bank robbery with perfectly passable young men. Better films have been made with thinner storylines. This one falls just short.
Based on a hit Gujarati play - for a change, it is clearly mentioned in the credits - it is suitably adapted for cinema. And helped a great deal by Ashok Mehta's superb cinematography and crisp one-liners. And consistently above average performances with the unsung Paresh Rawal in the role of a blind railway platform singer waling away with glory ahead of even Amitabh Bachchan who now seems to be trying to find untapped reservoir of talent, something he was not brave enough to do at his peak.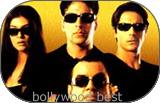 He is daring to step beyond the trite and the tried. He is reasonably successful. He does not get much to mouth here, his famed baritone only occasionally getting the audience's ear. But, he still manages to catch attention with some superb understatements. He does not have to speak a million lines to catch a few eyes. He deserves it. And gets it. As does Sushmita Sen in a rare role as the lead heroine. Last time she came in an Amitabh film in Hindustan Ki Kasam, she hardly got a word in edgeways. This time she is pivotal to the plot. As are consistently improving Akshay Kumar and Arjun Rampal.
Aankhen is the story of a mastermind, three blind men, their trainer and a bank robbery. It starts off as Rajput's very personal tale, develops into a very personal vendetta before sweeping with it all those who come in its stroke. Rajput (Amitabh Bachchan in a role which takes you back to Aks) is a bloke who has given his best to the bank. And then drawn a blank cheque that is fired for bashing up a corrupt staffer.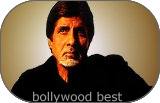 In retaliation, he plans a bank robbery. He is the mastermind, the man who is familiar with very nook and corners the bank to plan everything to the minutest detail. For his million-dollar exercise, he hires three blind men promising them Rs. 50 lakh. Only thing is the men with special needs have to behave like common men, execute the robbery and then walk away again like men with special needs. No suspicion, no doubt anywhere. Blind men can grope, cannot rob. Blind men can blunder their way through, cannot shoot straight like an arrow. Simple.
On this simple premise, is built this action-packed thriller which could have been a standout comedy had the director focused less on hi-tech action and more on situational humour. In trying to marry an edge-of-the-seat thriller with a laugh riot, it fumbles in the second half after an enriching beginning. Also the music is a bit of a let down with even the item number by Kashmira Shah, thrown in with an eye on the frontbenchers, doing little more than exposing the bawdy side of Bollywood.
The way it turns out, he relies heavily on Paresh Rawal's ability to deliver the goods in this strictly-for-metropolises fare. He is not let down by Rawal who gets the best lines and plays o the gallery with élan. Give this man an inch of a role and he will take a mile. His timing is superb, his expression match winning.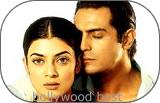 The latest Aankhen - this is the third pair of eyes, earlier there have been Dharmendra and Mala Sinha's offering in 1968 and then the Govinda Chunkey Pandey caper in 1993 - may not turn out to be a milestone in modern Hindi cinema - it could have though after such a fine first half - but it won't prove to be the milestone around Vipul Shah's neck. Except better, more consistent things from him. Meanwhile, don't just turn a Nelson's eye to his first foray into the big, bad world of Bollywood. It is eye-catching it its won right.
Courtesy: The Hindu