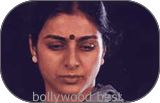 Cast: Tabu, Sachin Khedekar, Namrata Shirodkar, Ravindra Mankani, Smita Jaykar, Sunil Barve, Mohnish Behl, Kishore Nandlaskar, Resham Seth, and Sandip Mehta
Music: Rahul Ranade and Sukhvinder Singh
Produced By: Freinds India and Satyashwami Entertainment Pvt Ltd
Story, Screenplay and Director: Mahesh Manjrekar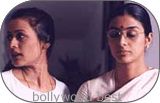 Dear readers, allow me for a while to come out of the shoes of a film critic and praise my heart out for a hard hitting, emphatic and an empowering communication voiced by Mahesh Manjrekar in Astitva (Identity). The uninhibited and direct manner in which he raises an issue which might be just a one of the many faced by the women community, more so by the Indian women, is simply stunning. The transformation of a submissive woman, who not for her but for the sake of her family and her children absorbs everything and anything that is being hurled at her, by her counterpart, by her children and by the society, like a sponge and doesn't allow even a thought of renegade, into an empowered, enlightened and self respecting yet humble woman who sets dauntlessly on the path of establishing her own Astitva, is perhaps the most powerful and sensible depiction ever being made in the history of bollywood.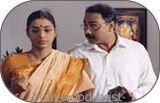 Frankly the movie is not about marital infidelity, nor it is about sexual misadventure and I even say it is not about Male chauvinism either, It really is about the identity of women, it is a gauntlet thrown at the male centric ideology of marriage which is haunted by predetermined gender roles, banishing women as an object to be treated according to the will and whims of the men. And I feel it's a rock and not just a stone thrown at this conventional wisdom of society by Mahesh Manjrekar.
Contrary to the belief of the feminist about marital infidelity, where the male indulges into an extramarital affair and the female suffers, in Astitva, the female is shown to have a sexual encounter with someone outside her marriage, which is purely circumstantial and if I am not sounding going overboard, is natural in such compelling circumstances as depicted in the movie. And the male suffers discovering it after 27 years. More than suffering it's a shock to his ego, more than a matter of infidelity it's a shattering of his realm of dominance wherein if he indulges into an extramarital affair or having multiple relationships driven more by cardinal desires than anything else, is perfectly legitimate and acceptable as he is a MAN.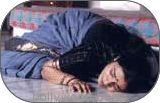 What should a woman do if her husband never cared or respected her desires? What should a woman do if she needs satisfaction of her physical desires and her husband turns her down? Should she keep waiting for her husband to turn sympathetic to her and oblige her or should she beg on her knees to her husband to oblige her in satisfying her physical needs? Is it that only 'the' men have such desires and not women? Or is it that woman has fewer desires than 'the' man? Such direct questions really create turmoil in your mind and you cannot agree more to the stance taken by Aditi (Tabu) in the film.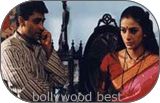 Tabu comes out with a phenomenal performance. The more you say about it the lesser it is. I really don't know whether she will get the popular choice award but I really will be badly surprised if she misses the critic's award for this year. Her simplicity, her deep involvement into the emotions of a disturbed wife, her naturalness in expressions of shock on the attitude of the society vulgarly dominated by the males, is just a treat to watch again and again. And I am really surprised over the maturity of Mahesh Manjrekar in handling such a critical and sensitive subject matter. He very dexterously refrained from the feminist rhetoric, which could have happened very obviously to such a film. Till the very end of it he did not pass any judgment about who is right and who is wrong and leaves you in total agreement to whatever he wishes to say. That's what I call directorial excellence. He has done it with Vastav, he has done it with Nidan and now he has done it again with Astitva. Hats off to this effort by Mahesh Manjrekar. Music, cinematography and such details are hardly of any consequence in such a strong film, which is replete with stultifying performances by everyone.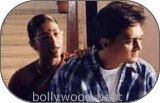 I do not wish to mention how the movie climaxes and even I wish to refrain from explicitly mentioning the story as that will leave you with a prejudiced mindset when you watch the movie. Hence lets it leave at this juncture and take up the issue once you watch it, as my recommendation is that it's a Must See.