Cast: Om Puri, Naveen Nischol & Perizaad Zorabian
Director: Nagesh Kukunoor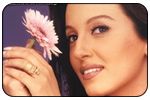 Bollywood Calling is a good film for its excellent performances and meticulous script. It, however, stops short of being a great or an outstanding film as the other departments do not quite film as the other departments do not quite match up to the standards set by these two.
This is Nagesh Kukunoor's third film after Hyderabad Blues and Rockford. Dipping again into personal experience (where will Kukunoor go from here?) Bollywood Calling takes a look at the chaotic world of film making Bollywood style.
Subramaniam (Subra for short) is producer-turned-director of a regular masala film, Maut -the death. He has managed a casting coup by pitting Pat Stormare, a B-grade Hollywood star against the legendary Manu Kapoor, an ageing superstar.
Pat is an innocent on Bollywood circus and is in for shock after shock including chronic late coming, sucking up to the star, the fact that dialogues are written on the set and the total lack of continuity or reason. It is a passage to India for Pat with Subramaniam, Manu and starlet Kajol being his guides.
As mentioned earlier, the performances lift the film to another level. Om Puri is absolutely brilliant as the wheeling dealing Subra. Enough cannot this brilliant actor brings to his character.
Scenes like where he directs the song sequence asking for "baaalls, baaalls I want more baaalls in the frame," or the fight sequence where he asks everyone- hero and villains to have the "bastard, I will kill you expressinon," are some of the many gems in film.
Navin Nischol has turned in a seasoned performance as the ageing superstar Manu Kapoor. It was an extraordinarily brave acting choice to play a character so close to reality and Nischol has faced up to the challenge unflinchingly.
The surprise packet is Perizaad Zorabian who more than holds her own as the pragmatic social climber, Kajol. Among big guns like Puri and Nischol, Perizaad has turned in a phenomenally confident and mature performance.
The film takes a pot shot at Bollywood's may quirks - from the title Maut, to the fact that everyone says the film is "zara hatke." There are the cat fights, the dirty minded camera man (whose side profiles start under the starlet's chin), the pampering of the star ego to little things like Manu Kappor's entry shot being a rip off of Guru Dutt's famous Pyaasa shot.
The satire is not as biting as say All about Eve. And this might be a quibble but there is also a sense of being caught up in a time warp. Daku films with Kutte, main tera khoon pee jaounga kind of dialogue went out with the '80s.
Kukunoor could have done well to satirize the wedding video film of the '90s for a contemporary look and feel. Bollywood Calling is an entertaining film- there are no two ways about that.
While there is the disclaimer about the characters bearing no resemblance to anyone, there is a major kick in trying to identify the people being lampooned from the make up man's son who made it big as a producer to the dance director.
It is great fun and as it is shot on location in Hyderabad, there is a special thrill in seeing our own city.
Only wish Kukunoor had gone that distance and pushed the envelope for a truly inspired experience.
Courtesy: The Hindu