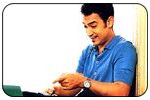 Cast: Akshaye Khanna, Preity Zinta, Aamir Khan, Dimple Kapadia, Saif Ali Khan, Sonali Kulkarni
Mirchi Rating: 4/5
Director: Farhan Akhtar
Music Director: Shankar Ehsaan Loy
Lyricist: Javed Akhtar


Good films rarely come in Hindi movies. But this year seems to be a lucky one for indian cinema, as we had quite a couple of good movies releasing this year. We had the brilliantly made Lagaan, and now we have with the latest release Dil Chahta Hai, another superbly made film. What is interesting is both the films feature Amir Khan, who again comes up with a flawless performance..but more about that later! After watching this movie yesterday, I immediately decided to pen it and write a review on this beautiful movie.
Dil Chahta Hai (DCH) is about the life of three friends who have nothing in common!
Akash (Aamir Khan) who does not believe in the four letter word called 'LOVE' and is nothing but a typical don't care guy who is never steady with a girl for more than two weeks and believes in having his own freedom and takes everything as a joke! Akash, a non-believer of love thinks that love is created to ruin perfectly healthy relationship.
Sameer Mulchandani, (Saif Ali Khan) a fashionable Mumbaiite who gets into situations with women where he keeps thinking he has everything under control!! He keeps falling in love with every other girl and is always confused about his relationships! But whenever he falls in love he really cares a lot for his girlfriends and thinks that he is really serious about them! The vibrancy and positive nature of the character has been portrayed in an excellent manner.
Siddharth or Sid ( akhshaye khanna ) who is very practical and knows the meaning of love ! He hardly talks and is the silent among the three! But he understands the depth of life and not that it is a joke! Siddharth (Sid) is much more mature and sensitive understands love and feels it every second of life, for everyone around him.
Sid falls in love with Tara (Dimple Kapadia), an elder woman and when Sid confesses about his lady love to his friends Sameer thinks he joking and Akash makes fun out of the whole thing and this creates a rift between Sid and Akash!
Akash leaves for sydney to take care of his dad's business where he meets his old friend Shalini (Preity) and slowly and steadily he falls in love with her but alas! Shalini is already hooked and booked! However, Akash, manage to get her! Meanwhile our confused lover Sameer finally finds and seeks love in Pooja (Sonali Kulkarni) a girl chosen by his parents.
The performance by all the three actors was excellent! The movie keeps you going because it is mostly filled with jokes that make you laugh all the while! A special mention about the song ' woh ladki hai kaha ' picturized on saif and sonali was really fabulous!
Akshaye Khanna is back with a bang and he is making his presence felt despite two other actors present in the film. It seems he is so natural and at ease wit himself that he will take the cake from right under Aamir and Saif Ali Khan's noses.
Aamir Khan does looked very comfortable performing the guy with an attitude up his collar. The cropped hair, goatee and earrings are absolutely unlike what the Khan Baba has done till date, but certainly worth applause.
Farhan Akhtar is terrific with dialogue and has a remarkable feel for humour, it's just that he can't handle emotions and melodrama (a bit of which seems inevitable in Hindi films) as comfortably. Farhan Akthar's direction is simply impeccable. He carries the movie with ease, and looks as if he were directing his tenth film, even though this is his first! The comedy is handled brilliantly, and it is not slapstick comedy. Its cool, intelligent comedy, and this is what makes for a good entertainer!
The film is beautifully shot (Ravi Chandran) and designed (Suzanne Caplan Merwanji); the music (Shankar Ehsaan Loy) does not grab one instantly by the collar, but it suits the film.
The backgroud score is good though quite less in the movie. The Look of the movie is very posh and modern. The dresses are amazing...and the hair-dos of each hero is unique and stylish! the choreography on Woh ladki.. is innovative and beautiful. Cinematographer also has managed to capture Sydney beautifully.
Music is just great, and suit the mood of the movie. They are very well written too. The title song, and Woh Ladki hain kahan are very good. Check out the picturizations of these songs, especially the Woh Ladki and Tanhai.
Finally, it is the acting that is a highlight of the film, with Aamir Khan, Akshaye Khanna and Saif Ali Khan walking off with all the honours. Aamir is expected to give a good performance, but it is a pleasure to watch Saif's impeccable comic timing and Akshaye's mature and talented performance. Too bad the women were given short shrift as always. But Preity Zinta was very pretty and beautiful. Sonali was certainly not worth watching in the movie. Dimple, after all this years is still a very beautiful lady with a lot of class and grace.
I wanted to write some more about the movie, but decided against it! Instead i would ask you to rush to the nearest theatre, and enjoy the movie! Do watch this movie at least once. This movie is a toast to friendship and love. It's a beautiful lesson on Friendship and Love!