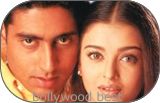 Producer-Director: Raj Kanwar
Cast: Abhishek Bachchan, Aishwarya Rai, Sonali Bendre, Amrish Puri, Anupam Kher, Shakti Kapoor, Sushma Seth, Salman Khan (special appearance)
Music: Jatin-Lalit
Fultoo Rating: 1/5
What if you are asked to believe that a girl tries to save herself from killers chasing her and in next few moments is standing on top of a waterfall estimating the height from which she will fall while she jumps to put a full stop to her life? What if you are asked to believe that the guy who earlier saved the girl from the goons, in an amazing coincidence falls in to the waterfall along with the girl in an attempt to save her and both of them emerge in three pieces intact with their baggage too, which, believe me for my life, they didn't carry during their fall!!! What if you are asked to believe that the boy is unable to tell the family of the girl who deems him to be the girl's husband for reasons, too wonderful? What if you are asked to believe that the family could not cotton on the girl's gloomy, lazy pudding like face and never ever bothered to ask what's her dilemma particularly when she is the darling of every Tom, Dick and Harry of the family? What if you are asked to believe that the boy who is shown madly in love with another girl (who is also shown to be in same emotion) dumps all the pyar & dulaar of the family and of course of the one whom he saved, discovers it to be a grossly wrong number? And what if this happens…and what if that happens and you are made to believe it all? Oh my god………coincidence galore. Mr. Raj 'family' Kanwar should have instead called it as "Dhai Ghante Coincidence Ke"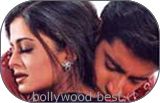 Widely touted as the story of love but I am afraid to say Mr. Raj 'Family'Kanwar, that this insipid, awful indianization..oops…. Kanwarization of Keanu Reeves starrer 'A Walk in the Cloud' is nothing but a story of coincidences, full of vulgarly placed song (read dream) sequences) and indigestible gloss. The boy (Abhishek Bachchan) returns to the family of Sahiban (Aishwarya Rai) whom he had left in utter pain and distress for his first love, who in turn sweetly dumps him for another. And after a lot of dhishum dhishum unites with Sahiban, his second love…shall we, Mr. Kanwar?
Aishwarya Rai appeared as if she is suffering from constipation throughout the movie. I really wonder how many milliliters of glycerin Aishwarya might have flown in the movie. Really feel sad for the gorgeous Ash who indeed has given much mature performances earlier. Bachchan Junior was equally disappointing. Some say that he is suitable to emotional roles, Mr. Kanwar dies for his intense eyes, but just this does not make anyone an accomplished actor. Not to say that he doesn't have potential, even Dilip Kumar would have appeared miserable in this movie conjured up with incredible coincidences and nerve wrecking songs. About all and sundry in the movie, there is hardly anything to say accept for Amrish Puri who was as irritating as a mosquito having a merry go round on your ears. And whoosh……..Sallu (Salman Khan) also gets a blink of a chance to expose!!!!!!!!! The music by Jatin - Lalit with the overdose of songs (you even have it at the climax and that too a dream sequence!!) is best forgotten. Needless to spare words for the direction when anything that happens in the movie is coincidence.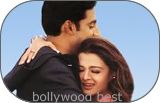 All said and done, the movie has wrecked the damage on you if you have seen it already. Even then lets try and make some sense out of the story which Mr. Raj 'Family' Kanwar very sincerely fed to dogs. Abhishek Bachchan, who is shown as madly in love with Sonali Bendre, falls in the solemn bondage of familial love and relationship as he was deprived of that, being an orphan. Leave aside the circumstances, which leads him into the family affair. Aishwarya Rai whom Abhishek rescues from all sorts of situations is the most loved member of the family being the only girl child in the family. Aishwarya naturally falls in love with Abhishek for his lovable character and for all his cherubic gestures. The bondage getting intense and Abhishek seeping deeper into the family, he also starts feeling for Aishwarya, which is nothing, but love that he doesn't want to fall in with. However his first love is somewhere else and before he could reveal the reality to the family he finds himself totally entangled. So he decides to runaway even though Aishwarya expresses her desperation for him.
Abhishek reaches to his first love only to discover that the girl has discovered her love in someone else, as Abhishek never expresses his feeling of this nature to her. From here the story could take many turns. One is of course the typical Hindi movie style where everything has to end on a happy note. This would certainly mean that Abhishek turns to the family and Aishwarya and he is well accepted. That's what the director also shows. But this really raises some thought provoking questions. Should the family accept Abhishek? And on top of it should Aishwarya accept him? Or should not the self-respect of Abhishek have refrained him in turning towards Aishwarya whom he left craving?
Lets make our own story out of it. Lets have your opinion on what according to you could have been the logical end to such a story, identifying it with more human psyche and values than the commercial considerations of movie.
Write back to us about what according to you should have been the logical conclusion of this story.
Rating though for Raj Kanwar's story: *