Cast: Aishwarya Rai, Arjun Rampal
Director: Naresh Malhotra
Music: Nadeem Shravan


Review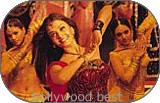 This is the week of beautiful women on the silver screen. There is Aishwarya Rai, she of shapely shoulders, cylindrical neck, aquiline nose and green eyes. Her face does not deserve an emotion other than love and tranquility. Anxiety, anguish, anger are not for her. Beauty is for love. And she is the kind who deserves to be pampered with roses, smothered with caresses. Iridescent as the moon, she does not have to get drenched in rain to get the cinemagoers to make a beeline for the turnstiles. Clad in all white, she adds colour to life.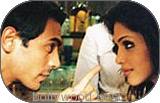 Here in Dil Ka Rishata, her home production, she flits across like a butterfly, sings like a lark. Leaving a naughty smile here, a shy glance there, she serves to lessen the gloom of a lonely winter evening. She is the life, body, soul, and yes, heart, of Dil Ka Rishta. As long as she occupies the screen, there is hope of redemption for this is hope of redemption for this Naresh Malhotra film. When she leaves, which is mercifully not often, there is not much to hold this time-tested, time-failed story of a rich brat-Arjun Rampal in love with a middle class girl Rai. He loves her, she loves somebody else Priyanshu. She marries that somebody else, he still pines for her. Until then the film is gripping and shows promise to notch up the numbers at the box office.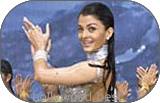 Sadly, that is where the director decides to play the villain in a film where there are no screen villains. And in conjunction with his scriptwriter Vrinda Rai, Aishwarya's mother comes up with clichés to hold this film together. That is also the time the film ceases to appeal to the heart, despite a fine cameo by Priyanshu and a couple of hummable numbers by Nadeem-Sharvan.
Yes, watch Dil Ka Rishta if you are a die-hard Aishwarya fan. On her well-revealed shoulders, she carries this film some distance. Where her slender frame flags, the pace slackens and this love triangle with an amnesia angle becomes a forgettable affair.